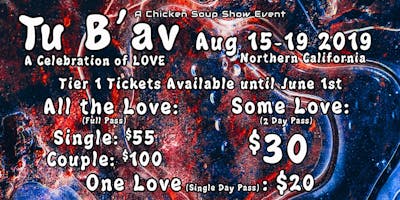 WELCOME ALL TO THE CHICKEN SOUP SHOW!!!
We are gathering together to celebrate "Tu B'av", the HolyDay of LOVE. The Talmund says that there are no Holy Days as happy as Tu B'av (and Yom Kippur), and we've decided to spread that happiness the best way we know how!!
Join us in celebration with dancing, singing, flowers, and learning in the beautiful forests of Northern California. On this amazing property we will have 2 stages: Lovers' Lounge (Main Stage) and The Waters of Love (Pool Stage). There will also be full access to bathrooms and showers during your stay on site.
Camping Tips: http://bit.ly/CampingWithUs
PHASE 1 LINEUP: June 1st

PHASE 2 LINEUP: July 4th

MUSIC SCHEDULE: August 1st
LOVERS' LOUNGE (Main Stage): Psytrance

SCHEDULE AVAILABLE AUGUST 1st
THE WATERS OF LOVE (Pool Stage): Chill Out & Bass

SCHEDULE AVAILABLE AUGUST 1st
TICKET INFO:

Pricing: Tier 1 / Tier 2 / Tier 3 / Gate
ALL THE LOVE (Full Pass)

Single: $55 / $65 / $75 / $85

Couples: $100 / $120 / $140 / $160
SOME LOVE (2 Day Pass)

$30 / $40 / $50 / $60
ONE LOVE (Single Day Pass)

$20 / $25 / $30 / $35
EARLY ENTRY (August 14 @ noon)
$20
ALL TICKETS INCLUDE CAMPING FEES

ALL AGES // KIDS 10 & UNDER ARE FREE