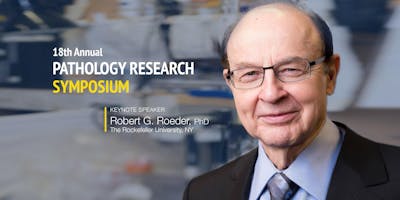 Join Us Nov. 15, 2019
This Molecular and Cellular Pathology graduate student event showcases research within the department by faculty, postdoctoral fellows, and PhD students.   
 
Keynote Speaker
Robert G Roeder, PhD
Arnold and Mabel Beckman ProfessorThe Rockefeller University, New York City, New York"Transcriptional regulatory mechanisms in animal cells"
 
Poster Abstract Submissions
If you are presenting a Poster, please download this template, fill out the information, and send your abstract to Laura Labut. Submit their abstracts for the poster session by October 25th.
Download Template
For more, Contact Laura Labut.