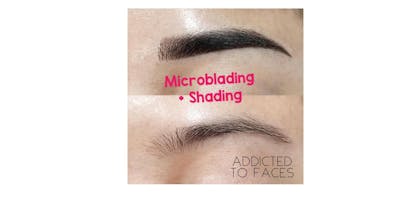 For the private Microblading + SHADING combo training you will learn both techniques. You will also learn the fundamentals of Microblading and creating COMBO brows with a PMU device (permanent makeup machine). You'll learn the correct methods for combining hairstroke microblading with machine shading. 
Class Cost: $2500  (only a $400 deposit) 
(9:00am – 5:00pm w/ lunch break) 

Introduction & Theory

Training Manual & guides 

Skin anatomy (skin & brow structure)

Skin tone, color theory & color mix

Microblading proper technique 

MicroShading technique & combined method with Permanent makeup Machine 

Microshading Needles/Microblading Blade sizes overview 

Workplace health & safety, sanitation & sterilization procedures

Proper numbing application 

Brow mapping (hands on & interactive) 

Proper holding of permanent makeup machine and needle depth in skin

Tools & Materials: setting up your workstation

Microblading Hand Tool holding position & skin support for eyebrow

Eyebrow Design 

Aftercare instructions & Waivers included 

Client consultation 

Live Demonstration by instructors 

Business setup and requirements
Live Model Practice Includes:
Guidance through your procedure from start to finish

Prep/set-up/sanitation

Measuring

Brow mapping

Tweeze & trim

Numbing

Color options

Aftercare 

Sanitation 
INCLUDED IS A STARTER KIT FOR 20 PROCEDURES. ALSO, WE WILL PROVIDE EACH STUDENT WITH RE-ORDERING RESOURCES, SO YOU CAN PURCHASE PERMANENT MAKEUP SUPPLIES. You will receive 3 pigments (equal to 70+ applications)
Starter Kit: 

Comprehensive manual

Permanent Makeup Machine 

Kit Case to store all of your essential supplies 

A variety of Microblading blades w/ different sizes and configurations

A variety of Shading Needles w/ different sizes and configurations 

Quality Pigments (3 in total)

Effective eyebrow wax pencil  

Measuring Ruler  (key to achieving perfect symmetry and brow shape)

Artificial Skins (variety of brows outlines & stencils)

Aluminum Hand Tool

Effective Numbing Cream

Razors

Gloves

Microfiber brushes

Spoolies

Pigment Rings

Face Masks

Brand Building  (Instagram & Facebook tips & tricks to gain followers, pricing guidelines, how do I take perfect clear pictures and more!) 

Tattoo Licensing: 
Each state has their own regulations for permanent makeup. It is the student's responsibility to research and confirm the requirements to offer the service of permanent makeup, which falls under Body Art and Tattoo. Your specific county health department will have all of the information you need to obtain a license. The Board of Cosmetology does not govern Microblading. You do not have to obtain an Esthetician or Cosmetology license to perform permanent makeup services. Once you decide to take our course, you will need to complete an online Bloodborne Pathogens course to work on a live model. Once you register, we will send you a list of approved online courses to receive your Bloodborne Pathogens certificate.  
Proof of Bloodborne Pathogens for body artist Certificate of Completion.
Hepatitis B Vaccination Status (one of the following): Hep B Vaccination Record, Declination Form or Antibody Laboratory Results
*Certificates will be issued to the name of the registrant.  Please purchase the deposit ticket and register under the student name.                                           
***This payment is for deposit only to reserve your space in the workshop. The remainder of your balance of $2100 in CASH is due at the start of the workshop.
Company Website: www.addictedtofaces.com