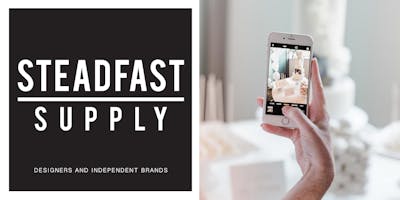 WHAT YOU'LL LEARN: Learn to use the features of your mobile device to capture stunning photos! We will cover mobile phone photo capture, learn about a few essential and powerful editing apps, and best practices for sharing your work taken on your phone.
This will be a hands-on workshop, and participants will leave with a minimum of 3-5 quality images that they compose and capture during the class.
Participants are encouraged to bring their own mobile device fully charged.
All attendees will receive 10% off any day-of Steadfast Supply purchase.
ABOUT THE INSTRUCTOR: Amanda is a photographer and content creator based in Washington, D.C. She is a member of Fostr Collaborative and The Rooftop Collective. She teaches styling and photo workshops across the district and works regularly as a creative director and consultant to local businesses on visual identity and branding strategies.
GETTING TO STEADFAST SUPPLY at BALLSTON QUARTERS - VA
Steadfast Supply is easily accessible via Metro, highway, bus, bike, or on foot. We are located at Ballston Quarters on the first floor, directly across from the DryBar.
Parking
For your convenience, Ballston's public parking garage has over 3,000 spaces. For more information, click here.
Metro
Accessible by Orange and Silver Metro lines via Ballston-MU Station.
The following Metrobus routes serve 1AB, 2A, 10B, 22ABC, 23ABT, 25B, 38B
The following Arlington Transit (ART) routes serve ART 41, ART 42, ART 51, ART 52, ART 53, ART 62, ART 75
Click here for more Ballston Transit info.
INTERESTED IN OTHER RELATED EVENTS AT STEADFAST SUPPLY?
To view our complete events calendar: http://www.steadfastsupplydc.com/events