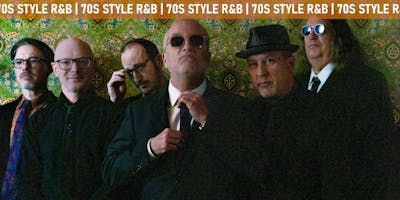 The Venue is excited to present... The Imperial Sound!
For more information about The Venue, please visit our website.
Doors open at 7PM. Opening act Brent Brown at 8PM. Headliner at 9:00PM.
Advance tickets are: $15 for Reserved Table Seating ($20 at the door)$10 for General Admission ($15 at the door)
ABOUT THE ARTISThttps://wgntv.com/2018/08/30/midday-fix-live-performance-from-the-imperial-sound/THE IMPERIAL SOUND is a swinging pop band with roots in 1970's AM radio, Chicago soul, and first-rate song craft. Kenn Goodman (keyboards) and Rick Mosher (guitars and vocals) have been partners in a variety of musical ventures, from the Chicago-based Pravda Records store and label to the legendary trash-rock trio The New Duncan Imperials, for many years. Their latest incarnation, as the founders of The Imperial Sound (sometimes shortened to ImpSo by its fans), puts them at the center of a group of seasoned musicians with years of experience and a drive for self-reinvention.
 The band's debut full-length album was recorded with Mike Hagler at Kingsize Sound Labs (Wilco's Summerteeth and Mermaid Avenue discs, Neko Case, Mekons, Waco Brothers) and mixed by John "Strawberry" Fields (everyone from Miley Cyrus and Demi Lovato to the Dollyrots). The twelve songs on the Imperial Sound's debut forge an immediately identifiable sound and style: songs bristling with pop hooks, taut arrangements driven by an all-star horn section, heavenly harmonies courtesy of a who's-who in Chicago pop. Guests on the album include Peter Himmelman, Poi Dog Pondering's Dag Juhlin, Singing legends Kelly Hogan and Nora O'Conner, and Kathy Ruestow.
The roots of this band are long and strong. Kenn Goodman and Rick Mosher met in college, where they shared a love of both music and good-natured provocation; they started a new wave band, and also published a phony college newspaper that ridiculed frat culture. Their band played mostly originals, unusual for the scene, and they had success on the local circuit, playing virtually anywhere and anytime, for any number of people (this era included an opening slot for the biker band Black Oak Arkansas). The band recorded two 45's, got their songs played on the local radio station, and totally ruled the scene.
But Kenn and Rick had bigger ideas. Soon they had dropped out of college, started a new band, and relocated to Chicago, where Kenn led the way in starting Pravda Records, a label and store located in the Cabaret Metro building. Soon Pravda was one of the most recognized record stores in the city. Kenn and Rick were busy with the Pravda label as well, releasing records by a number of bands. During this time the label was perhaps best known for producing a pair of tribute albums to K-tel Records, a nostalgic compilation of 1970's one-hit wonders performed by well-known local and national bands including The Smashing Pumpkins, Mojo Nixon, and The Young Fresh Fellows.
Along with running the store and the label, Kenn and Rick were busy with their new band, The Service, which by now included Gary Schepers on bass. The Service was a mainstay of Chicago's new-music club scene, and the band's four albums are full of sturdy, no-nonsense songs and inventive arrangements. Their music has aged well, as critic Peter Margasak noted in the Chicago Reader on the occasion of Pravda's 25th Anniversary: I still have an awful lot of underground rock records from the mid- to late 80s, before media and marketing geniuses cooked up terms like "alt-rock" and "indie rock," and few of them have aged as well as my Service albums. They were the epitome of the midwestern rock of the time: unfussy, exuberant, and with a certain elegance in its simplicity.
The Service was a hardscrabble band with more songs and passion than money in the bank, but they toured constantly despite $2 per-diems and shared single motel rooms (a past memorialized in the Imperial Sound song "6 to a Room"). They had a good run, but after several years the pressure got to them. Kenn, Rick, and drummer John Smith split off to form The New Duncan Imperials, a band as noisy and irreverent as the Service were earnest and poetic. NDI enjoyed a meteoric rise to the top of the city's club scene, and were soon selling out shows throughout the country; they made inroads into Europe as well. Their recorded output — 10 releases in all -- is an avalanche of chaotic, absurdist power pop. These days the band is sometimes referred to as "legendary." No one is arguing.
Fast forward: NDI performs when the feeling is right. Kenn runs Pravda as a successful indie label and publishing company. Rick is still writing songs. The two men share a history and a sensibility, and now they have a new project in which to pour their remarkable energy. The Imperial Sound is a band with years of shared experience, yet they sound anything but tired -- the songs are fresh and the vibe is driving and melodic. This may be a band with a past, but it's also a band with a future.
https://www.theimperialsound.com
ALSO FEATURINGBRENT BROWN
https://www.brentbrownmusic.com

Chicago based up and coming artist Brent Brown (30yrs old) pours everything into his music. It is his passion in life and a way for him to spread positivity into the world around him. Brent is a songwriter who sings, plays guitar, bass, drums and keys. 
Brent's often been asked "How are you gonna do that live though?".
With his new minimalist, yet extensive live looping rig; Upcoming album ('Dreams & Drugs' 09/21/2019) will be brought to life using a combination of backtracks and live looping. You'll also catch some improv jams, not using any pre-recorded backtracks.