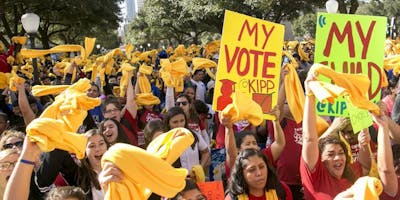 Join thousands of parents, educators, and students at the annual Texas School Choice Week rally in Austin. This event is an opportunity to have your voice heard in support of empowering families in Texas with access to more quality education options. 
This non-partisan event brings together members from every community. It's an opportunity to show support for great public schools, public charter schools, private schools, magnet programs, virtual education, homeschools, and the parents who are determined to find the right fit for their child. 
The program is always inspiring and kid-friendly. Please join us to celebrate education choice and show your support for expanding choice options in Texas! 
SCHEDULE: 
- 9:30 - 10:00 AM - Suggested arrival time - East Lawn of the Capitol 
- 10:30 AM - Capitol March Begins to the South Steps
- 10:45 AM - Rally Program Begins 
- 11:45 AM - Rally Program Ends 
We suggest taking a break after the rally to grab lunch. We highly recommend preparing a sack-lunch for this event and planning to eat on the East Lawn. Following your lunch, we invite you to go into the capitol to visit with legislators and their staff and share your story!