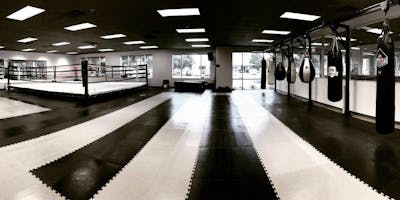 Join us on Saturday, December 7th for a martial arts workshop benefiting Explore Austin.
ONNIT Muay Thai and Jarrett & Jennie Customized Self Defense have put together this exciting event for anyone interested in the world of martial arts and self defense. This workshop is available to all skill levels and is beginner friendly.
All proceeds will benefit Explore Austin, a local nonprofit empowering youth to reach their full potential through mentoring, leadership, and outdoor adventure.
Please prepare for the following the day of the workshop:

Wear comfortable clothing that you can easily move in

Bring a water bottle (snacks will be available after the workshop)

You will be barefoot for most of the event so prepare accordingly

You must be 15 years or older to participate in the event 

If you have wraps and gloves please bring them, but this is not required
Event Program: 
2:00pm | Arrive at ONNIT Muay Thai
2:15pm - 3:15pm | Muay Thai Workshop with ONNIT
3:15pm - 4:15pm | Self Defense Interactive Presentation with Jarrett & Jennie Self Defense
4:15pm - 5:00pm | Food & Drink & Mingling 
Here is more information on the organizations involved in this event:Explore Austin:
Explore Austin uses mentoring, leadership, and outdoor adventure to empower youth to reach their full potential.  Through a leadership-based, outdoor adventure curriculum coupled with social-emotional learning components and long-term mentoring, Explore Austin is improving the well-being of each participant, their families, and the community.
This summer Explore Austin will send 20 teams of five Mentors and 15 youth, or "Explorers", across the country to Oklahoma, Arkansas, Colorado, Wyoming, and Texas. For many of our younger Explorers, this is their FIRST trip away from home and for some of our older teams, their very FIRST airplane ride. The money we raise through this event goes to creating these "firsts" for Explorers which, coupled with our unique adventure curriculum over a six-year period, help build their self-confidence, grit, and potential for success.
ONNIT Muay Thai:
At ONNIT Muay Thai, all levels are welcomed to join. If you are a child, parent, working professional or athlete, our dedicated instructors train and welcome all skill levels. Whether your goal is fitness, self-defense, competition or learning a new skill, we are here for you. We are proud to offer a variety of classes and instruction aimed at understanding the many aspects of Muay Thai. From Teeps to Clinch, our classes are designed to make you more technically sound while challenging you to be your best self. With a strong competition team led by Head Coach Alex Anoushian, we believe our members are our greatest asset. We provide a friendly atmosphere in a brand new WORLD CLASS training facility for people of all skill levels and walks of life to learn and thrive. You don't need to be in great shape to start. When you join ONNIT Muay Thai, you become a part of something much greater than just a workout program. We are an incredibly supportive and encouraging community. We've helped hundreds of people at all levels of fitness get in the best shapes of their lives and learn the art of Muay Thai.

ONNIT Muay Thai is not just a gym, we are a family.
Jarrett & Jennie Customized Self Defense: 
At Jarrett & Jennie Self Defense we believe that the right self-defense and safety knowledge, taught by the right coaches, can be an unparalleled vehicle to reclaiming one's own power. Teaching our students how to survive violence is just one aspect of what we do. Giving our students effective self-advocacy and boundary setting tools, and the confidence to use them in the moments when they are made to feel smaller, quieter, or without choice, is our truest "why."
Through high-profile events and on platforms hosted by corporations, organizations, networks, businesses, gyms, schools and media outlets, we lead audiences to speak up, walk tall and exist safer, well beyond the conclusion of our courses. Our powerful, effective and accessible speaking and training events connect with everyday people in profound and transformative ways. 
 
A huge thank you to our sponsors for this event:
If you can't attend the event, but would like to donate to Explore Austin visit our donation page