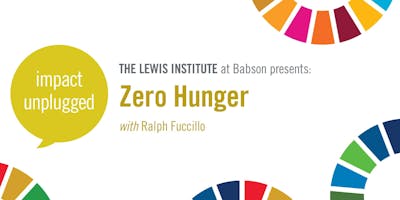 Zero Hunger
with Ralph Fuccillo, Principal of Cambridge Concord Associates and former President of the DentaQuest Foundation
In 2019, why are so many people still going to bed hungry?
Registration is NOT required.
About Impact Unplugged
Service. Sustainability. Social Innovation.
Sustainable, positive social impact can occur through a wide spectrum of activities. Individuals must first decide what problem they want to solve, and then determine where on the spectrum they can best influence the greatest change.
How can you use the assets and resources you have to more effectively solve the UN Global Goals, like poverty, climate action, and inequality? How can you bring an entrepreneurial mindset and social design thinking to scale that impact?
Impact Unplugged is a series of open conversations for all participants to share insights that lead to action.
These conversations are curated by Service & Justice Programs, The Office of Sustainability, and The Lewis Institute and occur most Wednesdays from 6-7pm.
As with all our Uncommon Table conversations, come when can, stay as long as you'd like. All are welcome.
Location:
Markey Commons (ground floor)Olin HallBabson College