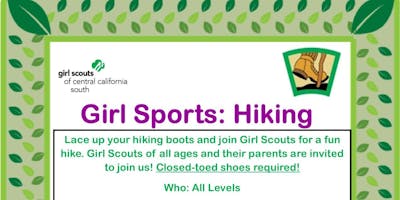 Join us on a nature hike where we will identify local flora and fauna!

This is an outdoor hike - tennis shoes to hiking boots are required. hiking appropriate shoes mandatory for everyone.Remember to bring your water bottles.
Parents can attend at no charge.
Deadline: Friday, May 17, 2019
NOTE: Must enter each attendee's information in Ticket section: First and Last name, Email address, Troop number and Level. 
Transfers, cancellations or refund requests must be made in writing prior to the deadline for the event (typically one week prior to event).  There are no refunds after the deadline or closing date of the event.
Download Waiver Here!