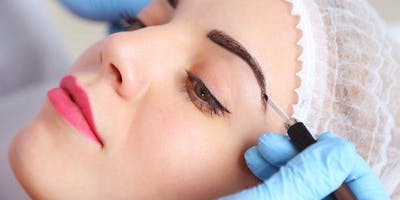 Upcoming Classes:
www.divinehairco.com/book-online

This affordable training will teach you the ins and outs of Microblading. Students will have a manual and kit to get started immediately after the training. Students who would love to learn everything about Permanent makeup will learn 5 skills in one class (Microblading, Microshading,Lip Color, Eyeliner BONUS Eyelash Enhancement). This class will include the Machine necessary to perform the above services. 
What is Microblading?
Microblading is Semi-Permanent makeup (i. e. Eyebrow Embroidery, 3D Brows, or Hair Strokes). This manual method inserts pigment into the epidermis of the skin. Microblading is for anyone who is unsatisfied with their eyebrows or would like to wake up every day without attempting to create the perfect brows. Individuals with overly plucked brows, little to no brows, Alopecia, Trichotillomania, receiving chemotherapy or radiation, and much more, will benefit greatly from this luxury service! This procedure will last up to 1 year and has the ability to last up to 3 years; however a touch up is recommended to keep the brows flawless.
This course will increase your income tremendously. Microblading services cost anywhere from $300-$2000. Keep in mind that this procedure requires a 4-6 week touchup and will fade after 1 year. So what does that mean Divas? Your client has no choice, but to keep booking you throughout the year! Location and experience does play an important role, however $300 for a service that only takes 2 hours is worth the training! One client, Monday-Friday for only 2-3 hours, at $300 provides you $1500 in a week, $6000 at the end of the month, and $72,000 yearly! Now, imagine if you were able to do a minimum of 4 clients a day, excluding weekends. I'll give you a hint ($1200 daily, $6000 weekly, $24000 monthly, and $288,000 yearly)! Your clients satisfaction = PRICELESS!
Microshading creates an Ombre/Powder brow. It gives the client a more dramatic appearance similar to makeup. The client brows will still appear natural. This class will come with the machine and pigment necessary to perform Microshading. With this same machine, you will also be able to perform eyeliner, lip color and so much more with proper training! Services the require Permanent Makeup Artist to use the machine has the ability to last the client up to 3 years and most artist start Advanced Micropigmentation services at $500, not including the price of the retouch!

v Register today!
This deposit will go toward the total class cost. The remainder of the cost is required the morning of class. For more information, please do not hesitate to contact Divine Hair Co. Owner, Dezaree' Lusk, at [email protected] or (469)499-6200. If I do not answer, please leave a voicemail. All calls and emails will be returned within 24 hours.
Here's what you will learn:
-In-depth coverage of every step/detail of the procedure (s)
-Do's and Dont's
-Anatomy of the Skin
-Skin Types and Disorders
-Types of Needles
-Hair Stroking and Color Theory
-Eyebrow Design, Shaping, and Mapping (creating symmetrical brows)
-Safety, Sanitation, and Sterilization
-Skin Preparation, Tools and Products used Before/During the Procedure
-Practice on Artificial and Guided Practice by Students on Live Models
-Aftercare and Touch-up Instructions
-Starter Kit and Manual (students will be able to start immediately after training)
- Steps for Consultation
-Microblading Do's and Don'ts
-Certification of Completion
-Unlimited Support after training
-Pigments and numbing cream
-Consent Forms
-Unlimited Support after training
-Students that chooses to learn Advanced skills will learn Full Lip Color, Eyelash Enhancement and Ombre/Microshading Brows. Students will have the opportunity to perform their machine work on a live model and also on artificial skins. 
***Clients will be responsible for providing their own model***
This will be an intimate and small group class to ensure that everyone learn each step thoroughly!
Please check your Health Department laws and regulations. Many counties/states require a tattoo license for Permanent Makeup once an individual has completed a Permanent Makeup course.