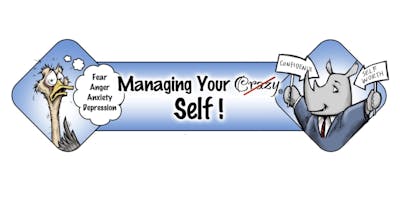 Managing Your Crazy 2-Day Conference
Houston 2019A New Integrated Neuroscience Modality


July 12 - 9 am - 3 pm
July 13 - 9 am - 3 pm
Registration/Check-in both days begins at 8:30 am

 

With paid conference ticket, optional ethics course available 3:30 to 6:30 on Friday, July 12 (one hour sessions to choose from)

One hour class (3:30-4:30) - $25
Two hour class (3:30-5:30) - $40
Three hour class (3:30-6:30) - $50


 

Solutions for Mental Health Professionals—therapists, school counselors, and professional coaches.
Conference includes:

12 hours of CE's provided on completion of 2-day conference
Free parking both days
Buffet lunch both days

In the Managing Your Crazy Program, Randy and his "crash" team simplify the neuroscience of the brain teaching practical ways to stay balanced in your day.
At this conference, learn interesting insights and methods how the brain is wired to screw us up, and how we are wired to heal.
Presenters include professional experts in the areas of neuroscience, CBT, REBT, mindfulness, trauma informed care, cognitive restructuring, thought-stopping, art therapy, solution-focused therapy, brief therapy, existential theory, spirituality, motivational interviewing, and neuro-underdevelopment treatment.
Therapists are calling it a universal modality. Therapists feel it helps them take the guesswork out of therapy.
"The MYCS program simply works with all my clients, any condition, and any age. It is just amazing how well this is received by clients. They love it. That's why I am so excited to be involved with MYCS." - Rick Ertell, LPCS
"You get out of the chute fast, and right away you've got me looking at things differently. Your talent and humor come through, and you keep the reader think- ing and turning the pages to see what's next." - Michael Carr, Freelance Editor
First of its kind in Texas and growing nationally. Over 30 professionals in six states are now implementing the Managing Your Crazy modality in their practices.