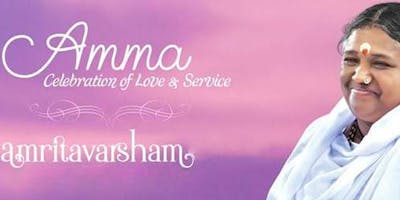 Birthday Celebration Satsang
Everyone is invited to the Pacific Northwest's celebration of Mata Amritanandamayi's (Amma's) 66th Birthday with Br. Dayamrita Chaitanya. This program is free.
The program will include a Pada Puja (special ceremony for the Guru), a spiritual discourse (Satsang), Bhajans (devotional songs), and Arati.
Amritavarsham is the day of service and love for millions of Amma's children around the world. It is the day that the Mata Amritanandamayi Math launches new humanitarian initiatives and expands many of the existing projects such as these Environmental intiatives.
For More News on Amma's Initiatives Stay Tuned To https://amritaworld.org and http://www.embracingtheworld.org
Vegetarian lunch
At 2 pm a delicious vegetarian meal prepared by the local area devotees will be available. The meal is also free.
Please RSVP so that we have a corect headcount for the meal!
Br. Dayamrita Chaitanya, a senior monastic disciple of Mata Amritanandamayi Devi (Amma) met Her first more than 30 years ago. He is the Executive Director of M A Centers. Br. Dayamrita has been going to different cities in the U.S, Canada and South America for the past 22 years giving spiritual talks, counseling the satsang members and answering their questions.
He holds an undergraduate degree in Physics and a masters degree in Film Technology. He tours tirelessly in order to inspire the different Amma satsangs to better serve their communities and keep alive the flame of selfless-service that Amma has lighted in their hearts.
Also keep informed about local PNW activities via https://twitter.com/AmmaPNW and https://www.facebook.com/AmmaPNW/ or signup for enews