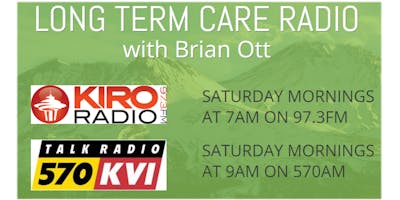 Speaker: Brian Ott, CLTC - Certified Long-Term Care Planning Specialist
Who it's for: Those with at least a million dollars of assets or more. This class is aimed at individuals and couples who have accumulated assets and may be considering to self-fund long-term care costs in the future.
What you will learn: Did you know many people will mistakenly pay more in taxes in a long-term care situation than it would have cost them to set up an insurance plan to pay for the care needed? Come learn why self-insuring is obsolete due to recent changes in the Pension Protection Act. We will discuss how new asset-based plans allow you to reposition a small part of your assets into an approved plan that guarantees a tax-free benefit for long-term care and pays you back with interest if you don't use it for care.
We will go in-depth and review how asset-based plans work and learn about the advantages of the different plans available today. You will learn how you can set up a plan that will guarantee you more money back even if you don't use long-term care yet protects your entire estate from the high cost of an extended care situation.
Attendees will receive a free copy of our book: A Guide to Long-Term Care Planning
Location: Meeting will be held in the Conifer Building inside the Bellfield Office Park near SE 8th street in Bellevue. The Conifer Building is on your right as you drive into the office park (about half a mile in), it is the building that also has a cafe in it. The meeting room is to your right as you walk through the lobby.