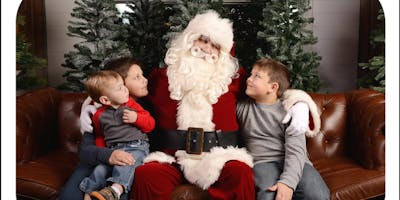 2019 "Toys for Tots" Santa Pictures hosted by M.Gioeli Photography.
Bring a toy for a child for "Toys For Tots" and enjoy the Santa Picture Event on
Sunday, December 1st, 2019
9:30am - 3:00pm
Granary at Winmock at Kinderton in Bermuda Run, NC
This year's gingerbread themed event will feature professional photos of your children with Santa, along with lots of exciting activities to keep the kids busy until their appointment with Santa. There will be stations to decorate a gingerbread cookie, write a letter to Santa, make reindeer food to sprinkle in the yard on Christmas Eve, and create a craft to hang on the tree. Get into the holiday spirit with Christmas games, music, and a special surprise activity!
Your ticket price includes the event activities and your child's photo with Santa.  You will receive an online gallery with the digital images (normally 3-5 per child, depending on how your child interacts with Santa) that you can download the digital images from.  
ONE unwrapped gift is required, however, each unwrapped gift you donate at the event will be one entry to win one of several prizes. 
We have many sponsors including:

The Ember Oak (Candace Winters)The Handmade Hydrangea (Jennifer PH)Renewed By Rachel (Rachel Burriss Trivette)Burriss Consulting, Inc. (Teddy Burriss)Hound Housing Doggie Daycare (Jessica & Katie Hege)LuLaRoe Stephanie Smith (Stephanie Smith)Usborne books (Kristi Pladna)
This is the 9th year this fun-filled Christmas event has been hosted at the Granary at Winmock at Kinderton.  Each year this event collects around 200 toys that are distributed to Davie County children just in time for Christmas!! This year promises to be the best!  We will post more details about the event as they become available!  Why wait in line for standard mall photos when you can enjoy this entire Christmas event and have professional photographs of your child with Santa.Please show your local support and help us give the children of Davie County the Christmas every child deserves.
 
 
Due to the fact this is a charity event proceeds will go towards paying for the event and donations to "Toys for Tots", the event fee is NON-REFUNDABLE for any reason and is NOT transferable to another M.Gioeli Photography session.  Thank you for supporting "Toys for Tots" and helping create big smiles for less fortunate boys and girls throughout the Triad by bringing a gift.