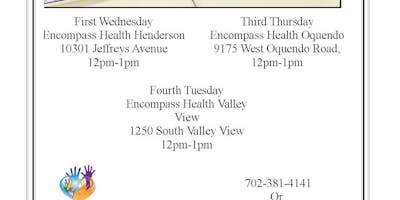 Our goal with the  Parkinson's support group is to offer a safe and fun environment that is not only informational but that is also inspirational in letting the community know that one can still live well within the mind body and spirit even though you have Parkinson's
 Please come out and Help us Support Each Other!!! 
This Support Group is held the
3rd Thursday of Every Month 
Encompass Oquendo Location
 

Time and Location:
12 PM-1PM 
Encompass Rehabilitation
9175 W Oquendo Rd
Las Vegas,  NV 89148
 

Refreshments or Lunch will be served

 

This event may be photographed or recorded. By attending this event, you grant Friends of Parkinson's, Inc. the right to use your name, image, and statements, as recorded and/or photographed, to promote Friends of Parkinson's and release Friends of Parkinson's  from all liability associated with the use of your name, image and statements.