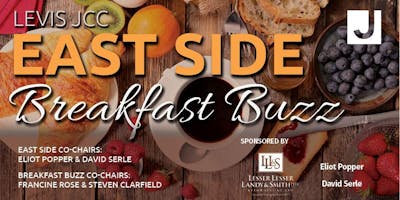 East Side Breakfast Buzz
 
Wednesday, November 13
8:00 - 9:30 am
Farmer's Table (The Oak Room) 1901 N Military Trail, Boca Raton
Join us to socialize, network, and connect with like-minded professionals and our community!
$36 per person before Nov 12, $50 per person on Nov 13 and at the door
Admission includes great networking, breakfast and guest speaker presentation.
Guest Speakers Glenn Edwards and Jordan Edwards:
Over the past decade, this visionary father and son team have built numerous profitable companies from the ground up. In their book This is It!, they show you why some small businesses thrive while others crumble, and share the know-how and best practices that enabled them to succeed spectacularly. They also provide actionable tools to help you begin creating a strong, viable, and enduring commercial enterprise today.
 
EAST SIDE CO-CHAIRS: ELIOT POPPER & DAVID SERLE
BREAKFAST BUZZ CO-CHAIRS: FRANCINE ROSE & STEVEN CLARFIELD
 
SPONSORED BY Lesser, Lesser, Landy & Smith, Eliot Popper & David Serle
 
For more information, call 561-852-3250.