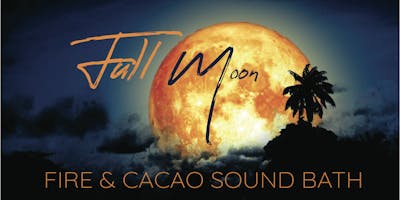 Experience 2 Sacred Ceremonies amplified with the combination of the Full Sturgeon Moon, while you are bathed in a Symphony of Ancient Sound. Harnessing the Sturgeon's vitality of long life in the face of hardship along with the emerging of artistic sensitivity expressing great number of insights to those with eyes to see. Ceremonial Cacao will allow the extraodinary power of unconditional love to flow joyfully for the awakening and expansion of our divine gifts. A Fire Ceremony will ground all intentions with powerful transmutational energies for rapid manifestation.
***Once we center ourselves within the Sacred Space of the Heart we will send this collective healing energy to ALL the hearts at this time of renewal.***
You will experience ...

Ceremonial Cacao to Open the Sacred-Heart Space

A Gong & Didgeridoo Healing Journey

Chakra Balancing with Nepalese Singing Bowls & Smudging

A Crystal Alchemy Singing Bowl Sound Bath with a Guided Meditation

Channeled Full Moon Polyphonic Tones for Unconditional Love to Flow

A Release & Renewal Fire Ceremony to Ground all Intentions

The guided meditation with Sound Bath includes ...

Journey Deep within the Sacred Space of the Heart

Energetically Expand Out of Resistant, Old Patterns

Via Sonic Release, Awaken from the "Illusion of Separateness"

Move into Seat of Your 'Creator Self'

Rebirth into the Most Highest Vibrational Blueprint of Life

Continual Transmuting of the Collective Suffering into LOVE

** FREE Meditation download specific to this Event for attendees**FREE attendance for ALL 'Awakening Program' clientshttp://www.mausouleum.com/services_awake.phpPAYMENT: $75/each**To preserve ultimate quality, the space is limited to only 15 guests. We have been selling out very quickly. Please book to reserve your spot & arrive no later than 10 min after the Sound Bath has begun. We do offer future credit for any events or services if you are unable to make it.**WHAT YOU WILL EXPERIENCE: 
https://youtu.be/oz72H_pdWzM
100+ Reviews of Perfect Five Star Rating:https://www.yelp.com/biz/mausouleum-bothell-2https://www.yelp.com/not_recommended_reviews/mausouleum-bothell-5https://goo.gl/maps/AwJYpECMyAK2https://www.facebook.com/pg/mausouleum/reviews/https://www.airbnb.com/experiences/255286
HOW TO FIND US & WHERE TO PARK:- Address: 16863 Brickyard Rd NE, Bothell, WA 98011- Google Maps Link: https://goo.gl/maps/71F7BwuBsdT2- **We are a residence. Please park directly across the street at the park which is FREE, due to our limited 2 car driveway. This way you are not blocked in:):) There is a cross walk that leads directly to our home. Please be aware of blocking any crosswalks, fire hydrants & driveways.----- OUR SOUND BATHSA SOUND BATH is an acoustic sound healing journey that relaxes the body, clears the subconscious, calms the mind, and activates your body's natural healing systems. Meditation is much easier when your mental activity is reduced by the sounds of the bowls. Very thick padded mats & fluffy pillows create a comfortable space for you to lie down and let the symphony of sound wash away stress and all that no longer serves you. We use a wide variety of ancient sound healing instruments, including Paiste Planetary Gongs, Australian Didgeridoo, Hand-hammered Nepalese Singing Bowls placed on your chakras, Crystal Tones Gemstone-infused Crystal singing bowls, a rare Crystal Lyre and more to create a sound healing experience that will vibrate and activate every cell in your body, leaving you feeling refreshed and rejuvenated. 
----
FIRE CEREMONY
Fire allows for rapid transformation. It provides the avenue to let go of the old story and drama, to transform, to renew and to be reborn. Through fire ceremony, you honor your lessons and old belief structures by placing them in the fire and turning them over to Spirit. By releasing these old patterns and beliefs into the fire, you heal deeply at the level of the soul without having to experience them at the literal and physical levels.
Fire ceremony, one of the core ceremonies in many medicine traditions, is typically held around times when the veils between the worlds are the thinnest. In the past, when fire ceremony was taught, it was only done with a teacher for years and years before ever doing it alone. Now, shamans say that the earth and our civilization are in such great peril that fire ceremony should be held by anyone who is willing to step in. The fire itself will become your teacher.
~ Four Winds
----- 
CEREMONIAL CACAOhttps://www.lovecacao.com/club?affiliate_id=1473226
This is the only indigenous women run business in the community! They grow their pure raw cacao with deep respect and understanding of the local ecology. It is made fresh from the bean in micro-batches. Blessed cinnamon, cardamom, ginger, honey and cayenne of only the purest quality will be added to increase circulation & enhance the benefit of cacao. Half of all profits return to Guatemala to support social projects and community development. 
This organic cacao is grown on an indigenous farm in Coban, Alta Verapaz, Guatemala. Each bean is carefully selected to ensure only the highest quality remain and then sun-dried.
The local Kaqchikel family of women gather to roast the beans over a wood fire, giving it a unique robust flavour. They sit together for hours to peel the beans and put the intention of love and the highest energy into them.
Cacao has many documented health benefits. It has a rich source of antioxidants, including flavanoids, which are believed to have an anti-aging effect, can help cardio-vascular health, and improve blood supply to the brain, facilitating learning and memory. Cacao might also help reduce blood pressure.Cacao (chocolate in its raw form) is a powerful plant medicine, used in sacred ceremonies over South and Central America for thousands of years. The cacao tree originated in Central America and parts of Mexico and was consumed by pre-Columbian cultures, including the Mayans, in spiritual ceremonies. It is an amazing tool for gently opening up the heart and reconnecting us with our highest self, opening us to hearing our heart's messages. It can also be used as an effective tool for healing heart-related emotional issues, and opening oneself to the feeling of love, self-love, compassions, and connection with everything around.
----
OUR MEDICINE WHEELA deep, soul purpose that has been brough into the manifest world. Our Ute nation rainbow famliy of two-spirits has been called to create this medicine wheel. Deep knowing and journeying for over a decade has finally come into fruition. The Medicine Wheel, sometimes known as the Sacred Hoop, has been used by generations of various Native American tribes for health and healing. It embodies the Four Directions, as well as Father Sky, Mother Earth, Spirit Tree & Great Spirit —all of which symbolize dimensions of health and the cycles of life. You will learn how to walk the path to heal and bring forth your gifts in this life.
------
OTHER SERVICES
Individual | Couples | Online | Remote | Certifications | Events
949.295.1289 | [email protected] | mauSOULeum.com
-----
FAQs
Are there ID or minimum age requirements to enter the event?
Ages 10 and up are welcome. Please no pets or small children since we have very fragile crystal bowls and a rare crystal lyre.
What are my transportation/parking options for getting to and from the event?
- Address: 16863 Brickyard Rd NE, Bothell, WA 98011- Google Maps Link: https://goo.gl/maps/71F7BwuBsdT2- **We are a residence. Please park directly across the street at the park which is FREE, due to our limited 2 car driveway. This way you are not blocked in:):) There is a cross walk that leads directly to our home. Please be aware of blocking any crosswalks, fire hydrants & driveways.
What can I bring into the event?

We supply thick yoga mats, blankets, bolsters, pillows, filtered water and tea. Of course, if you would like to bring additional items for your comfort and needs, please do so. Also, please contact us for any handicap or other accomodations.
How can I contact the organizer with any questions?
Kathy [email protected]
What's the refund policy?
There are no refunds but you may receive credit towards another event or any of our services. 
Do I have to bring my printed ticket to the event?
You DO NOT have to bring your ticket. We will have a printed list and will be able to check off your name when you arrive. Please do register online since we have limited space.
 Can I update my registration information?
Yes, you sure can. You can do this online or send me an email [email protected]
Is my ticket transferrable?
Yes, you can transfer your ticket to anyone you wish if you are not able to make it.