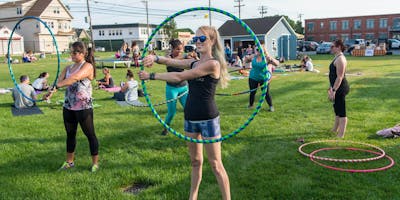 What's the HOOPLA all about? Feel like a kid again and join us for a 3 mile run followed by a Hula hoop class with Kailey from Hipnotic Hoopla. 
Run distance is approximately 5K in distance and the hoola hoop class will last for about 30 minutes. All abilities are welcome.
Interested in purchasing a hoola hoop? Kailey will have hoops available for purchase at the event and will offering 10% off to class participants. 
Meet Kailey - Hoopologist & Founder of Hipnotic Hoopla
Kailey is the founder of Hipnotic Hoopla. She discovered the art of hoop dance in 2011. Shortly after she realized, it's more than just a workout. Hooping has become a healthy creative outlet and form of self-expression. It has helped to build confidence and overcome anxiety. 
She completed the Hoop Love Teacher Training in November 2017. She is certified in child and adult first aid, CPR, and AED.