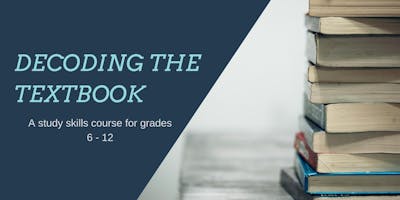 Here is an opportunity for students to become better learners. Decoding the Textbook is a three hours course designed for students in grades 6 -12. Often, teachers and parents assume students know how to use a textbook when that is not the case.

In this course, students will learn how to effectively use a textbook as a learning resource and study tool. Students will improve their reading skills by understanding how the content is structured. Additionally, new textbooks are full of wonderful study tools that students do not have the time to look over or that teachers do not have the time to teach. Now is the opportunity for students to learn about those tools. This mini-course will change students' perception that textbooks are daunting books to read. Instead, they are great resources for understanding lectures, studying, and research. More learning and improvement will happen as a result.
Parents are encouraged to attend. This course is free for one accompanying parent.
Attendants will learn the following textbook study skills:
How to use the glossary
How to use the index
How to use the Table of Content
Section title and review question relationship
Cross-referencing
How to create a chapter outline
How to interpret maps and images and their relationship to the content
Identifying the main idea and supporting details
Different types of review questions
How to answer a review question according to its type
Finding context clues to understand terms
Understanding different types of paragraphs and their structure
How to take an open book test
How to use the study tools within the textbook
 
FAQs
Are there ID or minimum age requirements to enter the event?
Students should be enrolled in school or homeschooled and be between the grades of 6 -12. Students entering the 6th grade for the 2019 - 2020 school year may attend.
What are my transportation/parking options for getting to and from the event?
There is plenty of free parking in front of the facility.
Will food be provided during lunch break? 
There will be a 30-minute break. Food will not be provided, however, there is an eating area in the facility. Attendees are welcome to bring their own snacks or food. Student attendees are not allowed to leave the premise unless accompanied by the registered parent.