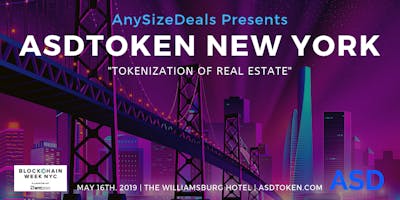 ASDToken also known as #BitcoinCRE is the premier real estate and blockchain brand globally. This event will take place during CoinDesk NYC Blockchain Week on May 16th, 2019 and caters to the leading voices in the blockchain and real estate space.
This year's theme is the "Tokenization of Real Estate Assets." Expect to hear from forward thinking real estate developers and investors as well as leading Blockchain founders and crypto-experts. ASDToken has previously been hosted in New York City and London. Join Steven Nerayoff former co-creator of Ethereum as he joins top blokchain pioneers to discuss the tokenization of real estate assets. 
Some of the speakers include:

AGENDA:
8:30am - 9:15am
Registration & Networking

REGISTER, NETWORK AND GRAB BREAKFAST
 9:15am - 9:20am
Opening Remarks

WELCOME REMARKS
 Speakers: STEVE NSON / CEO - AnySizeDeals  
 9:20am - 9:50am
Keynote

HEAR FROM AN INDUSTRY LEADER
 10:00am - 10:40am
Panel Discussion – "To Tokenize a REIT."

What are the challenges and opportunities of bringing digital securities to the REIT Market, from Regulatory Matters to Access to Liquidity. 
Moderator: Perrin Quarshie - CEO, RealBlocks

 Speakers: JOSHUA STEIN/ CEO & Co-Founder - Harbor, JUAN HERNANDEZ / CEO - OpenFinance, EVAN MALANGA / Director of Business Development - Securitize  
 
10:40am - 11:00am
Networking Break

NETWORKING BREAK
 11:00am - 11:40am
Panel Discussion: "Regulator."
Moderator: Daniel Fetner - Chief of Staff, Corigin Ventures
What are some of the regulatory challenges of security tokens and what's the ideal framework to facilitate the issuance of tokens. 
 Speakers: ODED SHOSHANY / CEO - Orbise, MARK VANGE / CEO & Founder - Token IQ,  MONIKA PROFFITT / CEO & Founder - Rise Housing, CLYDE VANEL / NYS ASSEMBLYMAN - D.33
 
12:00pm - 1:00pm
LUNCH

LUNCH
 1:00pm - 1:40pm
Panel Discussion – "To Token or Not."

What's the Business Case for Asset Tokenization and Fractionalization in Commercial and Residential Real Estate.
Moderator: ASH ZANDIEH / CIO, CREtech 

 Speakers: STEVEN NERAYOFF / CEO - Alchemist, JEFFREY BERMAN / General Partner - Camber Creek, STEPHEN KING / CEO - imbrex,  PATRICK O'MEARA / CEO - Inveniam Capital Partners
 1:40pm - 2:20pm
Panel Discussion – "Blockchain Beyond Crypto."

Beyond Crypto what are the other applications of Blockchain within the real estate ecosystem. 
Moderator: JOHN DEAN MARKUNAS / Principal, Power of Chain Consultancy 

 Speakers: ALEXANDRA LEVIN KRAMER / Partner - CKR Law LLP, ANTHONY ELIA / Co-Founder - FinanceDA, DAVE CONROY / Technical Lead - Meridio, RANGA KRISHNAN / Founder, BEI.RE  
 2:20pm - 3:00pm
General Networking/End of Conference

GENERAL NETWORKING/END OF CONFERENCE

LEAD SPONSOR
PARTICIPATING COMPANIES

MEDIA PARTNERS