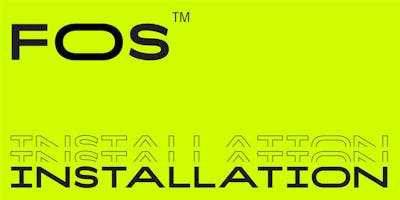 FUTURE OF SPORTS (FOS) is an immersive call-to-action experiment which uses the power of sport, culture and art to bring communities together and inspire them to change the world.
Our mission is to create sport experiences that promote equality and sustainability through art, design and give back.
This exhibition celebrates the intersection of art and sport and features interactive rooms that highlight soccer, basketball, tennis, boxing and cycling.
#futureofsports #NOTimpossible

Ticketing Rules:
- Children age 2 and under are free.- Tickets must be purchased online, as there are no tickets available at the door. - Tickets are non-refundable and non-transferable.- Each ticket purchased guarantees admission to the FOS Experiment for one hour on the date/time selected.- Tickets purchased on third party websites or through scalpers will not be honored.- Names on tickets cannot be changed. At least ONE person's ID in your party must match the name on ONE ticket (the rest of the names are interchangeable). If no one in your party has a matching ID to the name on one ticket, you will not gain access to the exhibit. - We allow a 15 minute grace period. Any arrivals more than 15 minutes late are subject to forfeit their ticket and time slot.- Minors under the age of 18 will not be allowed inside without a parent or guardian.-
*FOS Staff reserves the right to refuse entry.*
Questions: Please allow 24- 48 hours for a response.