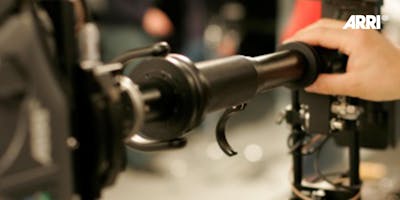 ARRI Certified Training for artemis
This two-day training course is designed for participants who are new to Steadicam(TM)-type stabilization systems and a professional shooting environment. Participants will be given the opportunity to gain knowledge of the basic principles and learn first-hand practical skills. Experienced professionals will detail the many possibilities the ARRI Camera Stabilizer Systems (CSS) with expert advice and hands-on training. By the end of the two days you will be able to set-up, operate and maintain the ARRI artemis stabilizer and be able to plan and execute artemis shots in multiple environments.
 
Who should attend
Camera operators, DOPs, camera assistants, dolly grips, film students and film technicians with an interest in learning to use the artemis Steadicam(TM) type stabilizer system and the ARRI CSS products
Participants should have a good basic fitness level however people of all physical statures and experience levels are able and welcome
 
What you will learn
Understanding the features and working language of the artemis and ARRI CSS
Learn the physics and basics of camera stabilization systems
Preparing the ARRI camera system and accessories for the artemis
How to setup and adjust the artemis vest and arm and sled
Drills and exercises for basic artemis techniques
Explore advanced soft mount and hard mount configurations.
Rehearse, shoot and record test shots to apply your new skills with the artemis
And more…
 
Details
You will be provided with an introduction to the history and development of ARRI CSS and understand the features and working language of the artemis. Each participant will work directly with an artemis and a complete ARRI camera system; you will rehearse, shoot and record your work for evaluation. You will be introduced to typical on-set situations and explore the different set-up considerations experimenting with alternative configurations using the modularity of the artemis to suit individual setups.
A maximum of 4 participants can attend each course with an instructor, complete ARRI camera system and artemis stabilizer provided for every 3-4 students. This will ensure that everyone gets sufficient practical experience working with the system and instructor. At the completion of the class, participants will receive a certificate.
 
Duration:  2 days (each 9:00 am - 5:00 pm)
Trainer:  Alan Lennox
Language:  English
For more information, contact us at:
ARRI Academy | [email protected]‭+1 (818) 388-2306‬ www.arri.com/academy
artemis Cine Broadcast
The perfect cross-over solution for high-end digital cinematography and broadcast productions. The modular and future-proof design of Cine Broadcast combines all the features needed to operate successfully in both worlds.
http://www.arri.com/camera/camera_stabilizer_systems
artemis EFP HD
The artemis EFP HD is made to support not only todays HD broadcast cameras in live TV and sport but also in digital cinematography with the most professional quality possible. High capacity wiring, hot swap technology, HD SDI video, and tally support guarantee a perfect workflow in a future-proof and modular design.
http://www.arri.com/camera/camera_stabilizer_systems

Please read the General Terms and Conditions and Privacy Declaration of Arnold & Richter Cine Technik GmbH & Co. Betriebs KG.
FAQs
Q: Is my registration/my ticket transferable?
A: Yes, you can transfer your ticket either to another event in the same country or to a friend.
Q:  Does ARRI Academy offer discounts to members of industry organizations such as ASC, SOC, DCS, etc and student discounts?
A: Yes, please send a copy of your membership card or student card to [email protected] to receive your discount code.
Q: What else is included in the ticket price?
A: Ticket includes lunch, snacks and drinks, folder with printed participant documents and a very nice giveaway.
Q: Where can I stay during the training?
A: Hilton Garden Inn Burbank Downtown TEL: +1 818-509-7964
Q:  Is there parking available?  
Parking is available at the site and on the street. 
Q: What are the conditions for refunds?
A: The Participant shall have a right to withdraw from the contract up to 5 calendar days before the start of the Event. 
No cancellation charges up to 14 calendar days or more before the start of the event
Cancellation charges amounting to 25% of the event fees up to 6 calendar days or more, but lesser than 14, before the start of the event
The full participation fee becomes due from 5 calendar days before the start of the event
See Clause 4 in the GTC 
Q: How can I contact the organizers if I have questions?
ARRI Academy | [email protected]‭+1 (818) 388-2306‬ www.arri.com/academy
NOTE:  "Diversity and Inclusion" discounts are for US-based camera classes only.  For further information: [email protected]
Newsletter-Registration: http://www.arri.com/newsletter