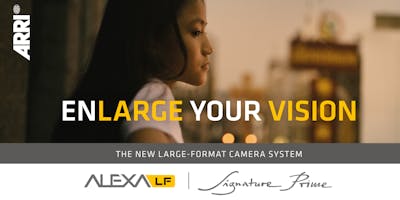 ARRI Certified Training for large-format camera system

This one day training course covers all aspects of shooting with ARRI's new large-format camera system.  An experienced working professional will teach this class using real-world production scenarios. At the completion of the class you will have deep knowledge of the functionality of the the large-format camera system in addition to advancing your creative skills.
The class will be offered to a limited amount of attendees to insure ample hands-on, and a high ratio of time with the instructor. You will be provided with a detailed introduction to the large–format camera system; ALEXA LF, ARRI Signature Prime lenses, LPL mount system, wireless video transmission, and wireless lens control.
ALEXA LF OWNERS:  To redeem your education voucher please enter the code in the ticket section.
Who should attend
Cinematographers
Camera Operators
Camera Assistants
DITs
Rental Staff
Production Staff
Duration: 1 days
Trainer: Art Adams
Language: English
Art Adams spent ten years in Hollywood working on features, TV series, commercials, music videos, sitcoms and visual effects projects. For the last 20 years he's lived in the San Francisco Bay Area, where he shoots commercials and marketing/branding projects for a who's who of Silicon Valley tech companies.
His curiosity, and desire to share knowledge with others, has resulted in a side career as a writer and educator who specializes in making complex technological and artistic concepts accessible and relevant to filmmakers. His articles currently appear at ProVideoCoalition.com, but he has written for American Cinematographer, Australian Cinematographer, the SOC: Society of Camera Operators' magazine Camera Operator, HD Video Pro and DVInfo.net. He has also worked with several major equipment manufacturers as a market researcher, product designer and usability consultant.
For more information, contact us at:
ARRI Academy | [email protected]‭+1 (818) 388-2306‬ www.arri.com/academy

Featuring a sensor slightly larger than full frame, ALEXA LF records native 4K with ARRI's best overall image quality. This allows filmmakers to explore an immersive large-format aesthetic while retaining the sensor's natural colorimetry, pleasing skin tones and stunning capability for HDR and WCG workflows. Versatile recording formats, including efficient ProRes and uncompressed, unencrypted ARRIRAW up to 150 fps, encompass all on-set workflow requirements.
https://www.arri.com/largeformat/
The ARRI Signature Prime range is the first cine lens series to feature machined magnesium lens barrels, making the optics incredibly lightweight and robust. They are also the first to incorporate ARRI's next-generation LDS-2 Lens Data System, with high data rates and absolute encoders for fast initializing. LDS-2 extends the possibilities of lens data and is being licensed to other lens and camera manufacturers.
https://www.arri.com/largeformat/

Optimized for large-format sensors, the new LPL lens mount has a wider diameter and shorter flange focal depth, allowing the ARRI Signature Primes and all future large-format lenses to be small and lightweight, with a fast T-stop and pleasing bokeh—a combination of features that would not be possible with the PL lens mount.
https://www.arri.com/largeformat/
Please read the General Terms and Conditions and Privacy Declaration of Arnold & Richter Cine Technik GmbH & Co. Betriebs KG.
FAQs
Q: Is my registration/my ticket transferable?
A: Yes, you can transfer your ticket either to another event in the same country or to a friend.
Q: What else is included in the ticket price?
A: Your ticket includes lunch, snacks, drinks.
Q: Where can I stay during the training?
A: Hilton Garden Inn Burbank Downtown TEL: +1 818-509-7964
Q:  Is there parking available?  
A:  Parking is available at the site and on the street. 
Q:  Does ARRI Academy offer discounts to members of industry organizations such as ASC, SOC, DCS, etc and student discounts?
A: Yes, please send a copy of your membership card or student card to [email protected] to receive your discount code.
Q: What are the conditions for refunds?
A: The participant shall have a right to withdraw from the contract up to 5 calendar days before the start of the event. 
No cancellation charges up to 14 calendar days or more before the start of the event.
Cancellation charges amounting to 25% of the event fees up to 6 calendar days or more, but lesser than 14, before the start of the event.
The full participation fee is due 5 calendar days before the start of the event.
See Clause 4 in the GTC
Q: How can I contact the organizers if I have questions?
ARRI Academy | [email protected]‭+1 (818) 388-2306‬ www.arri.com/academy
Newsletter-Registration: http://www.arri.com/newsletter