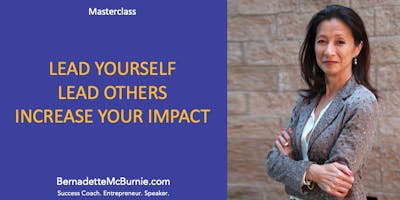 MASTER SELF-LEADERSHIP TO LEAD AND INSPIRE OTHERS TO ACTION.
Do you find yourself thinking "I want to be more. I want to create more in my life, in my work."?
Do you want to take your life and success to a higher level? 
Or maybe you feel you are not quite ready or equipped to do what you are aspiring to?
Each day you can choose to take control of your life, or to let it control you. You can be proactive, or you can be reactive by allowing circumstances to control the shots. 
No matter which environment or organization you operate in - family or work - the important skill of self-leadership is needed in every life situation. 
Whether an employee or manager, business owner, an entrepreneur, a parent, a team leader, community leader... when you learn to better lead yourselves, you become a more effective impactful leader all around. People will be inspired by you.
SELF OR PERSONAL LEADERSHIP.
WHAT IS IT ANYWAY?
Self-leadership is the ability to consciously influence your thoughts, communication, emotions and behaviors in order to achieve your life goals, personal and career objectives.
One of the biggest challenges current and future leaders face is to be able to "lead themselves" before going out and attempting to lead others. 
What you will gain when you attend the Masterclass:
Learn the 5 Steps to Master Self-Leadership
Tools and techniques to develop your leadership skills
Gain clarity on what you are responsible for - and not! - when leading others
Learn how to increase your impact through effective communication
You will leave the Masterclass with increased confidence, equipped with tools and techniques you can use immediately, ready to make things happen at a higher level!
INVEST IN YOURSELF and become the stronger more confident Leader that you are!
To Your Success!
Bernadette McBurnie
Success Coach. Entrepreneur. Speaker.

SUCCESS STORIES
"Running my own consulting practice is very different than being in higher management in hospital. I needed a coach who could challenge and support me. Bernadette provides me constructive feedback, tools and strategy, and empowering me to accelerate results and take my business to higher level of success."
Pamela Frazier, RN & Healthcare Consulting
"Coaching with Bernadette has allowed me to identify and remove the roadblocks that have been slowing down my success. I have acquire new positive habits and shifted behaviors, raising my level of confidence and effectiveness. Bernadette is a powerful coach and I highly recommend working with her."
Sandra Lopez, Realtor
"Bernadette has shown me that anything is possible with the right coaching and willingness to learn. Not only am I learning new techniques to help grow my business, but my personal life has flourished as well. I've since been able to live more in the moment, and develop an overall positive outlook that's been contagious among others. I couldn't imagine a better coach to help keep me aligned than Bernadette."
Andrew Boost - Regional Sales Manager
Visit www.BernadetteMcBurnie.com
and learn more about Bernadette's Success Coaching, and Programs and Courses.

with Bernadette McBurnie
Success Coach. Entrepreneur. Speaker 
With her Success Coaching, Bernadette's clients acquire a deep understanding of how to focus on the essential, how to identify, manage and overcome challenges, and how to create victories, big and small, while enjoying the journey of personal and professional growth.
Visit www.BernadetteMcBurnie.com
and learn more about Bernadette's Success Coaching, and Programs and Courses.
Bernadette's background and experience:
15 years Coaching Women in Business, Entrepreneursand Professionals
19 years as a Entrepreneur running an International Health Network from home
Stay-at-home mom
16 years in Corporate Management with large multinational corporations in the Cosmetic and Banking sector, and an international career in Europe, Asia and North America