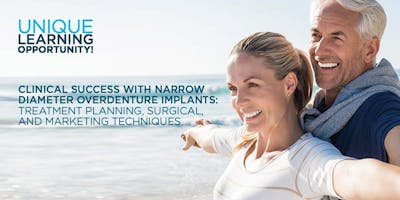 Title: Clinical Success with Narrow Diameter Overdenture Implants: Treatment Planning, Surgical, and Marketing Techniques
Course Abstract:
Participants will attend a comprehensive 8 hour (1 day) course which encompasses evidence and clinical based lecture with a thorough review of implant overdenture theory, treatment planning, and surgical procedures. Surgical and prosthetic demonstration will be performed with the assistance of video recordings of cases performed by presenter. A hands-on workshop with narrow diameter overdenture implants will be conducted during the afternoon session.
Learning Objectives:
Understand the Locator attachment system, treatment planning, and prosthetic space requirements
Treatment planning narrow diameter implants, anatomy requirements, foundational concepts of overdentures
Acquire basic understanding of the surgical and prosthetic protocols of narrow diameter overdentures
Exposure to techniques to begin marketing narrow diameter implants in a clinical practice
Course Outline:
8:30 AM - 9:00 AM        Check-in, breakfast
9:00 AM - 10:30 AM       Demographics, introduction to implant systems, overdentures vs. fixed, review of standard vs. narrow diameter implant systems; theory and basics of Locator and other attachments, fundamental concepts in treatment planning, prosthetic space, review of implant complications
10:30 AM - 10:45 AM      BREAK; Q&A
10:45 AM - 12:00 PM      Surgical anatomy review, surgical treatment planning, basic surgical protocol, why anterior/posterior to foramen, when to place maxillary implants
12:00 PM - 1:00 PM        Q&A LUNCH
1:00 PM - 2:45 PM         Surgical & Prosthetic Procedures – Video & Photographs of various cases/review guide fabrication
2:45 PM - 3:00 PM           BREAK; Q&A
3:00 PM - 4:30 PM           Hands-on sessions: 1) surgical mandible 2) hands-on pick-up demo with denture
4:30 PM - 5:00 PM           Q&A course completion
CE HOURS: 6.5
AGD Subject Code: 690
Format:
Lecture and Hands-On
Speaker Bio:
Michael Scherer, DMD, MS, FACP
Michael Scherer, DMD, MS, FACP maintains a practice limited to prosthodontics and implant dentistry in Sonora, California. Dr. Scherer is an internationally recognized expert on dental implants, dentures, and digital technology and has published numerous articles in leading dental journals. Over the last five years, his love of education and awareness of the newest practices and products has allowed him to personally teach and coach thousands of dentists, both nationally and internationally, how to replace teeth with dental implants and how to use dental implants to anchor loose dentures. Dr. Scherer is a Clinical Professor at Loma Linda University, a Clinical Instructor at University of Nevada School of Dental Medicine, and is a board-certified prosthodontist—an accreditation held by less than 1,000 practitioners worldwide.
Cancellation Policy:
In the event that a registrant needs to cancel, please email [email protected] at least 30 days prior to the course date to receive a full refund. Cancellations received less than 30 days, but more than 15 days prior to the course date will receive a 50% refund. No refunds are provided after this date. Failure to attend the meeting without written notification will not qualify for a refund.