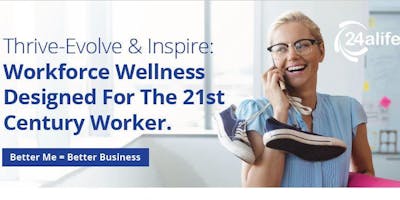 This event is for health insurance brokers and their clients and is organized by 24alife.
Join the 24alife and Mayo Clinic team for an informative and engaging presentation on how to thrive, evolve and inspire your workforce through the implementation of effective and sustainable wellness solutions.We invite you and your clients only to attend as they journey through an interactive presentation learning about how to:
• Create a culture of resilience allowing for greater productivity and engagement. ( Mayo Clinic Resilient Mind Program)
• Build an organization that utilizes continual learning as the new human capital to boot innovation and creativity.
• Inspire your workforce by knowing the "12 Habits of Healthy People", which will yield greater holistic well-being resulting in reduced absenteeism and greater engagement
Speaker:
Our featured speaker for this event will be Dr. Kerry Olson from the Mayo Clinic and the inspiration behind the 12 Habits of Healthy People program. Our distinguished speaker is currently a Mayo Clinic Head and Neck surgeon who also served as Medical Director of the Mayo Clinic Dan Abraham Healthy Living Center and is one of the leading experts on the field of preventive health. He is one of the American top doctors.