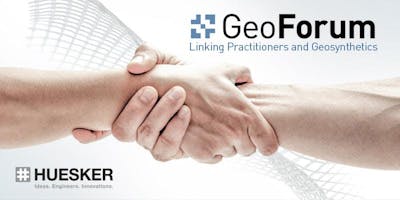 The planning for HUESKER Inc. yearly event GeoForum Charlotte 2018 (formerly GeoPass) is underway.
The format, aiming to provide a networking opportunity for consultants, academia and state agencies, is still the same. We have lined up an experienced group of geosynthetic professionals to talk about applications relating to transportation and coastal protection sectors.
In addition to the traditional visit to our state of the art production facility, we have included in the program a small exposition to demonstrate geosynthetic applications and concepts.
We are excited about this invite-only 3rd GeoForum event and you are included in the select list of attendees. Please see below the list of confirmed presenters and click on the registration button to confirm your attendance.
We look forward to talking geosynthetics with you!

-- Presenters --
Dr. Fazli Erol Güler - George Mason University
Dr. Jorge Zornberg - The University of Texas at Austin
Dr. Bradley Putman - Clemson University
Dr. John Lopez - Lake Pontchartrain Basin Foundation (LPBF)
Dr. Arash Lavasan/Dr. Oliver Detert - HUESKER

-- Event Timeline --
Happy Hour: October 17 at 7:00 pm
GeoForum Presentations and Expo: October 18 at 8:30 am – 5:15 pm (Dinner 6:00 pm)
Plant Visit: October 19 at 8:00 am – 12:00 pm