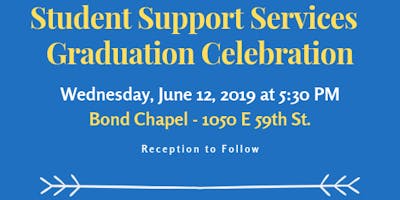 You are cordially invited to join Student Support Services as we celebrate the accomplishments of UChicago's  FLI (first-generation, low-income, and/or immigrant) graduates.
The festivities take place on Wednesday, June 12 from 5:30-7:00pm at Bond Chapel.
This celebration will highlight the accomplishments of students who identify as first-generation, low-income, and/or immigrant (regardless of immigration status) graduating from the College, graduate divisions, and professional schools during any quarter of the 2018-2019 academic year.
Remarks and ceremony will begin at 5:30 p.m.
Family, friends, and significant others are encouraged to attend and celebrate! Each graduate has up to four (4) guest tickets. Please contact us if you need additional tickets.
Please register through Eventbrite by Monday, May 27 at 5:00 p.m.
We look forward to celebrating with you and your guests!
*This form is for graduating students and their guests. We welcome current students and campus partners to RSVP via email at [email protected]*

Frequently Asked Questions
1. How many tickets can I get for family and friends?
Each graduate is welcome to register up to 4 guests through Eventbrite. If you are interested in bringing additional guests, please email [email protected] As space is limited, we ask that you only request what you need and update us if the number changes.
2. What is the dress code for graduating students and guests?
Suggested dress is semi-formal, but we encourage you to wear your most celebratory outfit.
3. Do I need to bring my cap and gown?
Cap and gowns are optional. We will have a ceremony during the celebration.
4. Can I wear the SSS stole at the Convocation on the Main Quad?
Stoles presented at SSS Graduation can be worn at the 531st Convocation Ceremony on Saturday, June 9 at 9:15 a.m. on the University's Main Quadrangle. The Dean of Students for each area will determine if they will be allowed at other ceremonies.
5. My question isn't listed.
Please give us a call at 773.702.2435 or email us at [email protected] anytime.