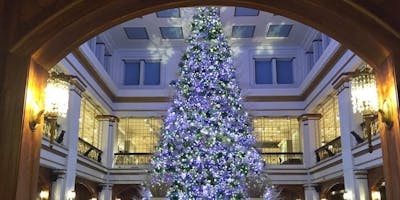 Holiday Tour Overview
On this special holiday tour, we'll see some classic Chicago holiday traditions and hear off-the-beaten path stories that you expect from Chicago Detours. Instead of whizzing by Christmas lights from a bus, we'll walk (in mostly-heated indoor spaces) to fully enjoy the spirit of the holidays in downtown Chicago. While we can't predict the weather, we can promise you won't get too cold! We'll venture into a few cozy locales and talk history over couple drinks. Non-drinkers are more than welcome, too, as this is more than a drinking tour.
We have some inside stories on our holiday lights tour! Hear about how Mayor Richard J. Daley saved the Christmas Parade, and then how his son, Richard M., was almost awarded a stocking of coal for his affront to the holidays. Your guide will share the story of Rudolph the Red-Nosed Reindeer's birth in Chicago. We'll even have an overview of the development of consumerism for Christmas. This walking tour is not your typical holiday lights tour of Chicago!
The holiday tour has some classic experiences, too. We'll go into the former Marshall Field's Department Store, where Chicago holiday traditions have a rich and long history. You'll have your choice of a beer from the local Revolution Brewery or a glass of wine. While enjoying those drinks, you'll gaze at the giant holiday tree in the historic Walnut Room and discover forgotten stories and make new memories. We'll also consider nostalgia or old Chicago with a view at the holiday- and not-so-holiday-lights on State Street. The holiday tours ends across the street from the Christkindlmarket, where you can choose to explore on your own and perhaps get a steaming serving of German mulled wine!
We do walk outside for 5-10 minutes at a time, so please – bundle up!
The holiday tour will run at various times on selected dates from November through December. Please check availability for schedule.
Holiday Tour Highlights:
Sip a local brew while gazing at the Macy's Holiday Tree
Understand the artistry of department store window displays
See the new Muddy Waters mural and discover the Chicago blues connections to Xmas
Hear the story of the "Christmas Tree Tragedy"
Learn of the cute gimmicks of holiday seasons past and a history of consumerism
Drink a "Tom and Jerry" cocktail at the historic Miller's Pub
Tour Meeting Spot:
Tour starts inside Falafel Island/Rawabi Grill at 24 E. Adams St.
Tour ends inside Block 37, 108 N. State St. (across from Daley Plaza, Christkindlmarket).
Bundle up! We'll be inside half the time, and the other half we'll be in warm, cozy places having drinks.
Sights and Stories:
Historic Miller's Pub
Palmer House Hotel
Holiday lights on State Street
Macy's Department Store
The Chicago Christmas Tree in Millennium Park
Chicago Theatre and its Famous Marquee
Christkindlmarkt in Daley Plaza
Reservation Does Not Include:
Drinks: Guests bring $24 cash to cover two drinks and server gratuities. Drinks include a holiday cocktail and a glass of wine or local beer.
Tour guide gratuity or giving program donation.