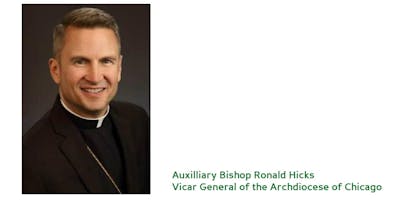 On Friday, December 7, at Noon,
in the Presidents Hall of the Union League Club,
The First Friday Club of Chicago
Welcomes
Auxiliary Bishop Ronald Hicks
Vicar General of the Archdiocese of Chicago
Who Will Address the Topic:
Light in the Darkness:  Discovering Light and Hope in the Christmas Event
We are acutely aware of the darkness in the world.   However, especially during the season of Advent, we patiently hope and boldly proclaim the light will never be overcome by the darkness.   With inspirational stories and solid spirituality, Bishop Ron Hicks will share his experiences of living and working with children and adults in poverty in Central America. 
Surrounded by so much bad news in our lives, Bishop Hicks will help to center us on the Good News which comes from our Savior.
We look forward to being with you on December 7th, at Noon, with Bishop Ronald Hicks.
To make your reservation, please visit our website:  www.firstfridayclubchicago.org  by MONDAY, DECEMBER 3, before 5pm.   There is no processing/registration fee to reserve online.   In the COMMENTS section, indicate whether there is a group or person you wish to sit with, and if any dietary requirements. 
THANK YOU!
THE UNION LEAGUE CLUB HAS A DRESS CODE: Business attire for women and a shirt with collar for men. NO TENNIS SHOES OR DENIM CLOTHING ALLOWED.
 
Parking & Transportation at the Union League Club:Valet Parking available at the Federal Street Entrance. Self Parking available at the garage on the northwest corner of Federal and Van Buren. Special rates are available for guests with tickets that are validated at the Front Desk.