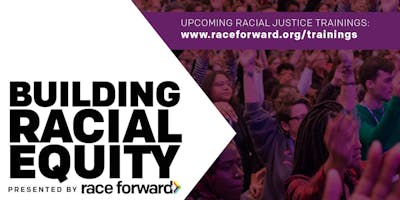 The Building Racial Equity series, developed by Race Forward: The Center for Racial Justice Innovation, are interactive trainings for those who wish to sharpen their skills and strategies to address systemic racism and advance racial equity. Unlike "diversity trainings" which primarily focus on interpersonal relations and understanding, these trainings emphasize how to challenge and change institutional racial inequities.
 
Building Racial Equity: Foundations is the first and "foundational" training of the series. Participants will build on and strengthen racial equity practices for themselves and their organizations and networks. This training will introduce participants to concepts, frames and tools that are essential to a productive racial equity practice. Attending this training is required to participate in subsequent series trainings. [Dates and venues TBD.]
Training Components 
Racial Justice Values & Vision
Key Concepts: Different Dimensions of Racism and Systems Analysis
Countering Implicit Bias
Opportunities to Advance Racial Equity
Participants will
Build a clear understanding of key concepts such as racial equity and structural racism.
Learn to talk about race constructively within their organizations and with their constituents.
Gain tools and practices for counteracting racial bias in their work and practices.
Identify opportunities and next steps for applying concepts and strategies to advance racial equity.
 
Early Bird rates are available until a month before the event (12/20/2018), only full price tickets are available within the month leading to the event.
For scholarship applications and any questions, please email the BRE team at [email protected]
**Disclaimer: By participating in the event you are granting permission for your image and likeness to be filmed, photographed, edited, copied, exhibited, published or distributed by Race Forward. No audio will be recorded at anytime. If you do not wish to be photographed and/or filmed, please inform Race Forward staff onsite or prior to the day of training.