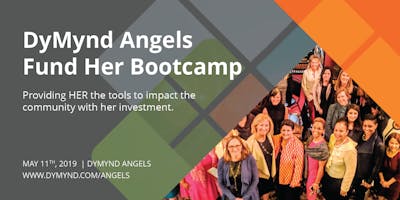 Give a woman a fish and you feed her for a day; teach a woman to fish and you feed her for a lifetime. Transform the industry and everyone wins. 
DyMynd Angels is providing HER with the Tools to make an Angel Investment Decision. She then is impacting the community with HER Investment. 
DyMynd Angels presents a one-day bootcamp filled with a rigorous curriculum to provide you with the tools necessary to become an informed angel investor. This immersive experience is designed for busy people.
The Fund Her Bootcamp is a one of a kind experience. You will learn: who the participants in the ecosystem are, difference between an angel and VC, how to vet an early stage business, what to look for in the team, why competition and market size matter, how is the deal structured, difference between equity and convertible notes, how to value a startup with no track record, dilution after successive rounds, what percentage will you own upon exit, managing a portfolio of investments, listen to 2 pitches and vote for the company you would back. 
Our modules will be taught by industry experts currently active in the ecosystem, you will learn best practices and hear how these experts think about their investments.
Modules
Introduction into the Ecosystem                                          Sonia Nagar, Partner at Pritzker Group Venture Capital
Due Diligence Where's The Deal?                                         Lally Doerrer, Managing Director and Corporate Officer                                                                                                Kaizen, Inc.
What's The Risk?                                                                Donna Howe, Founder and CEO at Windbeam Risk                                                                                                      Analytics, LLC
Deal Terms,Due Diligence and Negoiation                             J Skyler Ferandes, Venture University
Dealmaker v. Deal Breaker  Panel                                         Kristin Fox, Founder FoxInspires, Inc.
Angel Building Blocks With Real World Applications                Samara Hernandez, MATH Venture Partners
Hearing & Evaluating the Pitch (2 Part Interactive Session)     Jane Abitanta, Founder and Principal, Perceval                                                                                                           Associates, Inc.
After the May 11th all day session bootcamp attendees will have an opportunity to join a  Peer Advisory Investment Councils facilitated by Kristin Fox, FoxInspires LLC and Laleen Doerrer, Kaizen, Inc for an additional fee  $795.00. The Peer Advisory Investment Councils are small groups (6 -8 like-minded women)  who will combine their life expereinces and skills, along with investment knowledge gained from the DyMynd Angels Fund Her Bootcamp and guest experts, to begin making investments in local women entrepreneurs. Each member will bring her unique perspective to the table to help source, vet and invest $8,500.00  per group from the DyMynd Angel Fund  in a single entrepreneur's company. It will be a group decision and in the end they will have collectively become a cohort of Angel Investors making the decision on the investment themselves, they literally will have Voted the Money. They will have learned to fish!