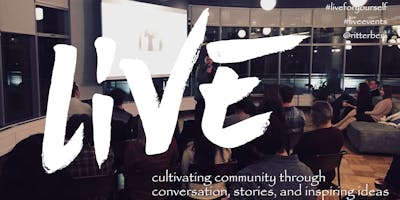 Have you ever wanted to attend an event that was focused on YOU and your growth?
Have you ever been to a "networking" event and wished you could just have a real conversation and not small talk?
Have you ever been out at a bar and wished there were other ways to meet people?
LIVE events focus on YOU, facilitates open and honest conversations, and brings people together.
--
LIVE events feature men and women who make a difference in their community, providing an open forum to talk about life struggles, challenges, keys to success and lessons in relationships, health, business and more.
Each event is focused on a specific theme and involves incredible thought-provoking speakers, and networking activities in-between.
This upcoming event we are focused on the theme of CREATIVITY and speakers will be sharing their personal stories as it relates to the theme and we will be diving into the topic of creativity through group and breakout discussions.
Make sure to get to the event by 6:30 PM to grab some refreshments, meet your sponsors, and chat with other attendees. During the event we will have three speakers and in-between two of the speakers a chance for all of you to dive into the theme of the event with other attendees.
After attending a LIVE event you will have inspired your internal leader, and cultivated new relationships.
--
Note: This is NOT a networking business professional event. You will get real, open, authentic, and vulnerable, and warning, you may be inspired, transform, meet some new people, and grow personally.
Early bird tickets are available for a limited time - speakers and sponsors TBA
Tickets will increase to $20 the Monday before the event.
--
Sample photos from past events:

--
LIVE event director and host:
Dr. Benjamin Ritter, is a Chicago based social entrepreneur, coach, consultant, mentor, and expert in the fields of personal and professional internal leadership development.
Throughout his career he has worked in the areas of hospitality, the entertainment industry, public health, education, childcare, healthcare, and personal and professional development, constantly seeking new experiences to learn more about the world, and himself.
The culmination of his previous personal, professional, and educational experiences led him to create Live for Yourself (LFY) Consulting, a coaching/consulting company that is focused on helping successful professionals find more meaning at life and in work.
LFY Consulting bases its coaching practices on the unique LIVE system, which integrates doctoral level applied learning theory, and curriculum and leadership development research.
Dr. Benjamin Ritter is also the host of the Live for yourself podcast and Live for Yourself events, author of The Live for Yourself Workbook, and The Essentials, creator of The Breakup Supplement, and a freelance expert and writer.
--
Keywords: Entrepreneurs, entrepreneurship, business professionals, health, wellness, growth mindset, personal development, professional development, networking, creativity, creative