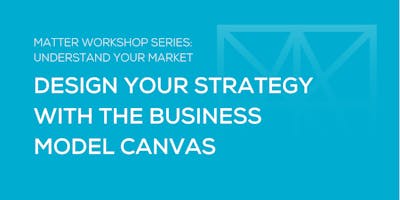 MATTER members and partners: use your discount code for 100% off the registration price. If you don't know your code, please email [email protected] for assistance.
ABOUT THIS WORKSHOP
To challenge the status quo with a new solution, you need to ensure that your idea is commercializable. All startups, regardless of stage or sector, must have a sound business model in place. For early innovators, building a business model is a key foundational step in getting your solution off the ground. At the same time, the ability to strategically flex an existing business model in response to outside factors is key for even experienced entrepreneurs.
Join this workshop to learn how to:

Use guided activities and visual tools to build or expand your business model

Strategically iterate on your business model to account for changes within your organization and shifts within the market

Align your team to your strategic vision
**Due to the interactive nature of this workshop, it will not be offered virtually.**
ABOUT THE INSTRUCTOR
Jarrod Lowery is a strategy consultant and business designer at DoTankDo. He drives client success using design thinking and visual tools in fast-paced, high-impact engagements and leverages innovative methods to help organizations craft strategies, grow sales and ultimately achieve their bold vision.