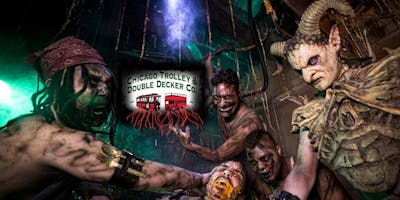 Best haunted house in Chicago. Period. Chicago Trolley is taking you to the most bloodcurdling, bone-chilling  haunted house in Chicago this Halloween season. Meet us at Wise Owl Drinkery & Cookhouse (former funeral home) for an unforgettable night. We'll take you on an old-timey trolley from Wise Owl in the West Loop to Midnight Terror in Oak Lawn, consistently rated the scariest haunted house in the Midwest. We promise, this place will scare the devil out of you. Our no-frills-all-chills trolley ride and  IMMEDIATE ADMISSION ticket to Midnight Terror will not only save you valuable time and money, but will save you from overthinking your fear. 
We'll pass several monumental graveyards and sites along the way before our IMMEDIATE ADMISSION to Midnight Terror. This place is no joke. You have to experience it for yourself. You can come solo or with any size group. Everybody is welcome. The more, the scarier. 
After you've been gutwrenchingly terrified and filled with evil spirits, we'll drive you back to the Wise Owl to end our night with good spirits. Wise Owl's food is spectacular and their bar is one of our all-time favorites. Midnight Terror Trolley Guests get 20% off all regular-priced food and drinks! A 20% discount from one of the best bars and restaurants in the continental USA?   WISE decision on your part. 
GET OUT OF YOUR COMFORT ZONES, OFF YOUR CELL PHONES, AND ON THE TROLLEY TO MIDNIGHT TERROR!