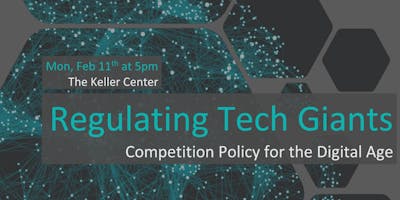 Regulating Tech Giants: Competition Policy for the Digital Age
Four leading antitrust and technology experts will be joining us to discuss how competition policy must evolve to properly safeguard markets in the digital age. Their research sheds light on the current antitrust framework, and how it fails to properly account for the individual and collective market power of technology giants. The conversation will be moderated by University of Chicago Distinguished Professor of Law, Randal C. Picker. This event is part of the Harris Tech Policy series. The panel will be followed by a dinner reception in the Keller Center's Sky Suite. 
The Harris Tech Policy series explores various ways in which to bridge the gap between current policy and technology, as we strive to balance the power of innovation with the protection of the public interest.
The panel will feature the following: 
Dr. Hal SingerManaging Director, EconOne ResearchSenior Fellow, The George Washington Institute of Public PolicyAdjunct Professor, Georgetown University's McDonough School of Business
Dr. Marshall SteinbaumResearch Director & Fellow, The Roosevelt Institute 
Sandeep Vaheesan, J.D.Legal Director, The Open Markets Institute 
Sanjukta Paul, J.D. Associate Professor, Wayne State University Law School 

This event is sponsored by the following: 
The Harris School of Public Policy's Harris Ventures Student Organization 
The University of Chicago Law School's Law & Technology Society
The University of Chicago's Master of Science in Computational Analysis & Public Policy Program