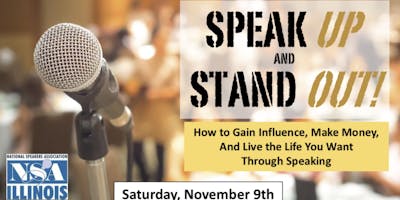 The direct link to this page is SpeakUpStandOut2019.Eventbrite.com
To see the List of Speakers, scroll down to the bottom of this page.
Please register each attendee separately so that it is easier to track the order.
SPACE IS LIMITED! REGISTER NOW.

SPEAK UP STAND OUT
How to Gain Influence, Make Money, And Live the Life You Want Through Speaking 
If you want to grow your income by speaking well or speaking for a living, this conference is for you! 
The podium is the new business card, and those who learn how to speak well – from the platform, the boardroom, the lunchroom, or the podcast booth -- can turn their knowledge and passion into a profession that pays! Learn from some of the best professional full-time speakers in the Midwest in this exciting one-day seminar. 

WHO SHOULD ATTEND? 
• Sales and Marketing Professionals who want to improve their ability to communicate in front of an audience 
• CEO's and Senior Executives who want to learn to influence others more positively 
• Trainers and Professional Communicators who want to grow their career or their business more quickly 
• Social Media Influencers who want to leverage the power of speaking to reach their goals 
• Members of Toastmasters or other local speaking organizations whose "inner entrepreneur" is calling them to speak as a profession 
• Authors and Soon-to-Be Authors who want to learn how to apply speaking to their business model for greater financial rewards 
• Current and Emerging Professional Speakers looking to improve their craft 

EXPERT SPEAKERS
Rob Biesenbach 
Sima Dahl
Rick Davis 
Lynne Frankin
Bill Guertin 
Catherine Johns 
Amy Segami

TOPICS
You'll receive maximum return on investment with these specific topics: 
• WAYS TO SPEAK FOR A LIVING - The many facets of the speaking profession, and the categories/opportunities available to you 
• CREATING YOUR CONTENT - How to build a core message that resonates with your target audience and brings value to their lives 
• PLATFORM SKILLS - The fundamentals of presence and professionalism on the stage when delivering your important message 
• STORYTELLING - The art and science of delivering your own unique experiences within your message to separate you from everyone else 
• MARKETING - Becoming known for what you know, and being able to demonstrate value in helping others get where THEY want to go 
• PRICING - How much should I charge for my speech? Examining different speaker pricing models and weighing the advantages of each 
• HOW TO DO A "TED" TALK - Is it right for you? How to go about becoming a speaker on the world-famous TED stage, either locally, nationally or internationally 
• YOUR ACTION PLAN FOR SUCCESS - Specific, measurable plans for moving forward 
Dress Code Business Casual
Agenda Nov 9, 2019
8 am Door Opens for Check-In. Light refreshments. Networking.
9 am Program Starts Promptly.
12 noon Meeting Adjourn. More Networking.
Getting There & Parking
Note 35th Street is currently closed under construction. Please click here for details.
Click to download the Flyer PDF
What else?
Absolutely no refund for any ticket type.
This type of event usually gets sold out fast. If you could not make it, you could exercise one of the options:(i) Transfer the ticket by following the instruction on your ticket.(ii) Alert the organizer and release your ticket. You will receive ticket karma to avoid embarrassing empty seat syndrome as well as letting someone on the waitlist to attend.
Ticket Schedule and Fee
Now till Oct 18 noon Early Bird $179
Nov 1 noon to Nov 8 noon Almost At The Door $229
After Nov 8 noon to Nov 9 At the Door Walk-in $259

Contact
Christy Moore, CMP, Executive Director of NSA Illinois Chapter847-991-0772