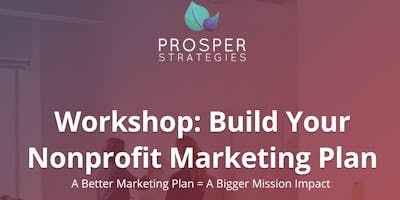 Are you ready to transform your nonprofit?
A better marketing plan can have that effect. But amidst day-to-day demands and never ending to-do lists, finding the time to pause and plan can feel next to impossible. And even if you do find the time, how can you be sure you're creating a plan that will actually move your nonprofit's mission forward?
It's time to take the struggle, stress and confusion out of marketing planning.
At this interactive, full-day workshop in Chicago, Prosper Strategies' CEO and Lindsay Mullen and President Alyssa Conrardy will walk you step-by-step through a straightforward process for creating a marketing plan that gets results. 
Using Prosper's highly popular Essential Nonprofit Marketing Plan Template (over 10,000 downloads!) as a guide, you'll work collaboratively with other participants to solidify your goals, choose your tactics and map out your marketing calendar. You'll walk away with a marketing plan you can begin to take action on immediately. 
Learn more about key takeaways, what's included and who should attend here.