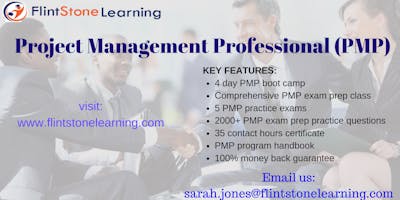 PROJECT MANAGEMENT PROFESSIONAL (PMP):PMP® certification is the international gold standard of project management, and is a project management course based on PMBOK® Guide - Sixth Edition. This course is architectured to aid you to ace the 5 process groups and 10 knowledge areas and clear the PMP certification exam in your first attempt. This training is designed to empower dynamic project managers like you to influence your organizations so as to meet the ever-evolving needs & requirements of the business. PMP Certification Training Course Benefits:•    Gain global Acceptance•    Authorize Credibility•    Commit to Higher Billing Rate and superior Job•    Provides networking opportunities Lead and inspire the team to perform better•    Administer project management terminologies and concepts•    Know how to use the tools and techniques while studying for the PMP® exam•    Open Doors to New ClientsWho should take this course?•    Project Managers•    Associate/Assistant Project Managers•    Team Leads/Team Managers•    Project Executives/Project Engineers•    Software Developers•    Any professional aspiring to be a Project Manager
We Assured  that, our Certifcation  Classroom Trainings are confirmed to run with neither cancellation nor rescheduling.You can confidently make your training plan with our confirmed training sessions.
Other Courses: CAPM | LSSGB | LSSBB | Combo LSSGB&LSSBB |ITIL | CSM | PMI-ACP
Once you register with us, we will enable the access to our e-learning and exam simulators post successful registration.Looking  forward for your registration with us.
Note: Use FLINT20 to avail 20% of discount on our all training courses
Please contact us if you have any queries [email protected]
RegardsSarah JonesMarketing Managerhttp://www.flintstonelearning.com