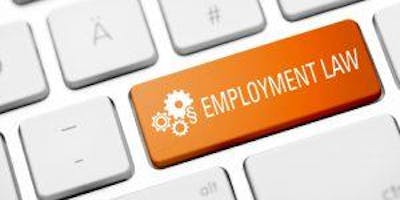 Are you ready for 2020?
California courts and our legislative representatives have been busy in 2019, planning new surprises for employers in 2020. To fully protect the workplace from costly employment disputes and administrative audits, California employers, managers and human resource professionals must stay abreast of the ever-changing landscape of employment laws in our state and cities, as well as cases decided by California and federal courts throughout the year.
Join us at this half-day program to prepare for 2020!  Topics to be discussed will include (among many others):
     Extended deadline for sexual harassment prevention training for employers with 5 or more employees     (all employees, not just supervisors)
     Deciphering AB 5, Dynamex and the use of independent contractors in the workplace
     Paid Family Leave expansions (more on the horizon)
     Amendments to the FEHA's protected categories and required policy updates for all employers
     CalSavers Program is here – are you ready? Is it legal?
     Significant local and state minimum wage changes - is your wallet/payroll processing ready?
     The definition of "Registered Domestic Partnerships" expanded
     Changes to key forms and new hire documents
     Pay for "Computer Software" and "Physicians and Surgeons" on the rise
     EEO-1 Component 2 reporting requirements
     Overtime changes for agricultural workers
     Update on the DFEH anti-harassment programs, postings, trainings and sample materials
     Arbitration do's and don'ts and the U.S. Supreme Court's view on class waivers
     Rest and meal break relief for certain industries
     More changes to PAGA (the "sue your boss" law)
     Expanded interpretation of what constitutes "reporting for work"
     Non-discretionary bonuses don't just affect overtime
     Multiple cases evaluating commute time and the use of company vehicles
     Clarifications regarding the Ministerial Exemption
     More on the importance of carefully drafted arbitration agreements
     Many, many more….
 
SPEAKER
Jonathan Light, a graduate of UCLA Law School, has more than 30 years of employment law experience and has been named multiple times as one of Southern California's "Super Lawyers" by Los Angeles Magazine.
Jonathan and his team of 13 attorneys consult with more than 1,000 companies throughout California, regarding their day-to-day employment law needs.

SCHEDULE 8:30 a.m. to 9 a.m. - Registration & Breakfast 9:00 a.m. - Program Starts SPECIAL TICKET PRICING- Contact event sponsor at 310-532-1134
- WLAEAC member discount
- Group pricing discount available for groups of 5 or more
Thank you!