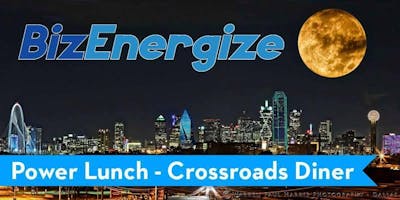 BizEnergize Power Lunch - You're Invited!
Join us at the BizEnergize Power Lunch!
High energy business networking in Far North Dallas over lunch! Meet other small business owners, entrepreneurs and business professionals, learn from a helpful presentation and gain new Connections & Content to expand your business Community.
WHEN: Thursday, May 23, 11:30 am - 1:00 pmWHERE: Crossroads Diner, 17194 Preston Road, Suite 101, Dallas, TX 75248
BizEnergize organizes this Power Lunch with a featured presentation for you to get up-close and understand the value our guest speaker offers. Enjoy a learning experience and network with other business-minded professionals.
Free Admission! Your only cost is for a delicious lunch, which is a flat rate of $16 for food, beverage, tax & tip! Learn, network & leave with at least one useful takeaway!
--> Learn About Our Planned Events at BizEnergize.com and Add BizEnergize to Your Calendar!
BizEnergize FEATURED PRESENTER for May, 2019:
SURVIVE THE CYBER TSUNAMI!
Topic – Takeaways: 
Cyber security and assessments – 5 key things you / your company should consider doing now
IT Compliance – 5 key things do to now
Cyber Insurance – basics to consider, and cyber insurance coverage options
Integrating all of the above for one cohesive cyber plan
Learn more about this event and our expert panel: BizEnergize.com - Survive The Cyber Tsunami!