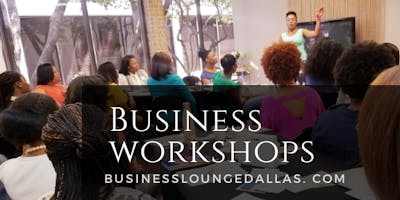 Monthly Business WORKSHOPS are a must at Business Lounge Dallas. We don't just offer a business lounge & event space!
Women-owned businesses are the fastest growing business segment.  However, our businesses are lagging behind in revenue and funding opportunities to those of our counterparts. One of those reasons is our BRAND!
Are you ready to let your brand visuals communicate your mission and goals at first sight? Are you ready to unlock one of a kind brand visual that feels just right? In this workshop you'll learn how to create a simple moodboard and an eye-catching logo that speaks to your audience. Learn the techniques I use to create solid brand visual strategy + design concepts that makes my clients' worth unquestionable. 
Taught by Jennifer Briggs iof @bynicoledesigns

Tickets must be purchased through Eventbrite. There will be no ticket sales at the door.
Business Lounge Dallas is located inside of Live Your Life Fitness. We are in between Midway Dental & Design for Living.