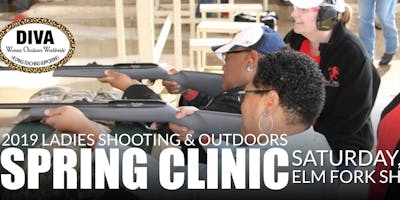 Join the DIVAs at Elm Fork Shooting Park in Dallas for the
2019  DIVA WOW LADIES & YOUTH Spring Clinic
Saturday, March 23, 2019   8:00 am to 4:30 pm
Youth are invited to participate along with the ladies.
Includes girls and boys, ages 9-18.
This clinic is for new shooters and those unfamiliar with shooting and outdoor activities. All instruction is Lady and Kid friendly and is a great sampler clinic!
Learn about
Handguns * Shotguns * .22 Rifles * AR-15 (Modern Sporting) Rifles
Black Powder Rifles * Spin Casting * Fly Casting
BB Guns/Air Guns * Hunting Dog 101 *  Slingshots/Blow Guns
You choose 6 out of 10 classes we offer!  Register now to save your spot.  It's first come, first served.  The most popular classes fill up the quickest.  If you want to take the classes with someone in particular, it's highly recommended that you register at the same time.
Registration includes
All Equipment
All Range Fees
All Ammo
All Instruction
Great Lunch
Great Shopping with our vendors
Great Lunch-Time Raffle
Door Prizes
Rates   
$95 per Non-Member (Join DIVA WOW first and save $20 on clinic registration - http://www.divawow.org)
$65 per Life Member
$65 per Youth
$10 Guest Lunch for non-participants (includes guys)
Registration closes on March 22
No Walk-Ups!  No Refunds!  Limited to 170 participants.
Youth Guidelines
Girls and Boys are welcome
Ages 9 – 18
Parent/adult and youth must be scheduled together
Parent/adult must accompany youth at all times
If parent/adult is not participating, purchase your lunch online when registering your youth
Times
8;00 am – CHECK IN OPENS at 8:00 am
8:30 am – WELCOME, SAFETY MEETING, and ORIENTATION
9:00 am – CLASSES BEGIN
12:00 noon – LUNCH & RAFFLES
1:30 pm – AFTERNOON CLASSES BEGIN
4:30 pm – END OF CLINIC
Rain or Shine Event Dress for the weather. Bring layers, rain gear (if needed), good shoes and protective clothes. High neck shirts and boots/tennis shoes are recommended gear for outdoors.
Bring your own eye and ear protection, if you have them. We will have eye protection available at registration if needed. We will also have vendors who have great eye and ear protection options available for you to try and/or buy.
Please do not bring your own firearms. All equipment and ammo provided.
__________________________________________
Sign up today – Bring your girlfriends, sisters, moms, daughters and sons!  The most popular classes will fill up quickly!  Looking forward to seeing you at the 2019 DIVA WOW Ladies & Youth Spring Clinic.
Rochelle Chelette, Clinic Chair
clinics@divawow.org    817-308-0719
DIVA…Women Outdoors Worldwide
__________________________________________
ADDITIONAL INFORMATION:
Host Hotel
MCM Elegante Hotel located approx 2 miles from Elm Fork Shooting Park
2330 W Northwest Hwy, Dallas, TX 75220
(214) 351-4477   www.mcmelegantedallas.com
$95 Room Rate includes hot breakfast and two adult drink tickets
Please call to ask for the DIVAWOW rate
Contacts
Sponsorship            Judy Rhodes         jr@divawow.org 
Vendors                  Barbara Parks       clinics@divawow.org
Raffle Donations      Barbara Parks       clinics@divawow.org
Volunteers              Rochelle Chelette   volunteers@divawow.org
Instructors              Sylvia Hastedt       instructors@divawow.org
Scheduling              Shelly Haffly         wiz@divawow.org
Registration            Cheryl Long           communications@divawow.org
Check In                 Rebekah Craig       craig.rebekah@gmail.com
Join or renew your DIVA WOW Membership at https://divawow.org/membership-levels/.