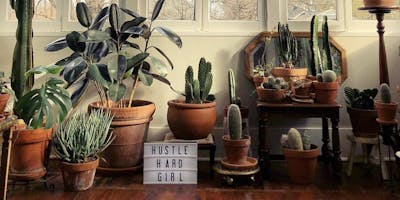 Never Stop Growing
We are truly excited about our next workshop! It will be an afternoon filled with plant fun. As we learn all about plants and how to keep them happy. As you know Little House On Routh is filled with Plants and we have a major love for them. 
We are a partnering with Olive May also known as @oliveinwanderland. We are obsessed with Olive May....her story and her love for plants. Olive has been a inspiration to me for many reasons. 
Olive  was born and raised in a little neighborhood in East Dallas. Her parents are landscapers, so naturally, she would work with her parents occasionally to help out with the family business. One of those times, she discovered that wealthy people throw good things away. She began to look through the recycling bins and found two magazines that would make her dream and set goals. Travel magazines and garden magazines would forever change the course of her life. When she would read the garden magazines,  she also promised herself to have a green garden with hydrangeas one day.
Houseplants are a great way to add life and beauty to your home studio, workplace, busisness and more. But sometimes we all struggle to keep them happy and healthy-If this is you....this beginner friendly workshop is for you.
Olive will give an in-depth introduction from start to finish like how to choose a healthy plant + identifying the best place in your home for it. You will also get the scoop on some of the best picks and favorites for indoor plants as well as where to find them in Dallas. We will chat about care tips and tricks to make sure your plant babies thrive. The workshop will end with getting your hands dirty and become the ultimate #PlantLady.
All materials needed for this workshop will be provided and you'll leave with the knowledge of how to care for your house plants, how to properly pot your plant, a plant care guide, pruning shears, in addition a potted plant to take home! 
What you'll get (and keep) #duh:

1.5 hours of personalized workshop instruction

Plant care guide

Indoor plant varieties

Pots for your plants

Pruning shears (to use and keep!)

Use of potting materials + tools

Lunch & Cocktails 

*Plant varieties and planters may vary based on seasonal availibility
So grab your friend and join us for magical afternoon. Space is Limited.