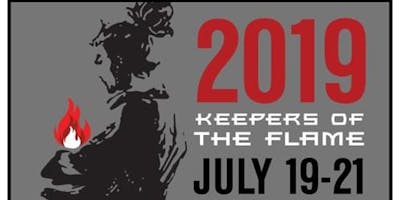 3 Days of Martial Arts Demonstrations, Workshops, Certifications, and Awards Dinner!
All martial artists of every style are welcome to join Chamberlain Studios in seminars on Kenpo, Juko-Ryu, Jiu-Jitsu, Aikido, healing arts, Kajukenbo and more!
What
Keepers of the Flame is a weekend of martial Seminars with grandmasters and masters from around the world: GM Nick Chamberlain, GM George Lim, GM John Patrick Nieto, GM Ted Sumner, GM Rich Fescina, GM Steve Shover, GM Carlos Machado, GM Mark Tracy, GM Ray Arquilla, GM Jefferson Davis, GM Gary Lee, GM Jesus Chavez, GM Jim Webb, GM William Powell, GM Joe Rebelo, Master Kiyoshi Takeuchi, Master John Deluca, Master George Thibault, Master Rollend Nery, Master Mike Bush, Master Dave Hopper, Master John Bain, Master Henry Childers, Master Dan Nolan!
Additional instructors and workshop times TBA and will be posted soon.
When
July 19-21, 2019
Where
Chamberlain Studios of Self-Defense Hombu Dojo2739 Bachman Drive, Dallas, TX 75220
Contact
214-351-5367 (KENPO) E-mail us at:  [email protected]

Schedule
The exact seminar schedule is TBA, but the general schedule is as follows: 
Friday: Workshops and seminars a t the Hombo (Bachman Lake) Dojo, 5:30pm to 8:30pm
Friday Night: Midnight Madness, 11:30pm to 12:30am at Hombu
Saturday: Workshops and Seminars are at the hombu dojo and across the street from the Hombu dojo at the Bachman Recreation Center Gymnasium. 9am - 5pm
Saturday Night: BBQ Dinner provided by award-winning BBQ Crew "The Wrath O' Pecan" is at the Bachman Recreation Center. 6pm - 10pm 
Sunday: Seminars from 8:30am to 11:30am

Accomodations
This year we two options for accomodations: 
MCM Elegante 214-351-44772330 West Northwest Highway, Dallas, TX 75220
They offer free shuttle service to/from both Love Field and DFW Airports and to/from the dojo, as well as complimentary parking, wi-fi, breakfast and drink coupons, and pick-up/drop off from your destinations.
Courtyard by Marriott
???