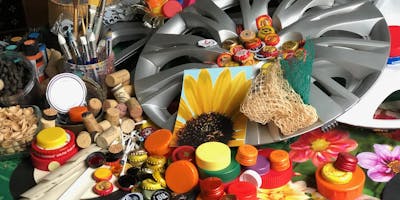 REUSE and RECREATE.
Turn roadside trash into a flowering treasure!
In our next recycled art workshop, local artist Sharon Zigrossi returns to take the hubcap palette to another level. 
In our first workshop, we made sunflowers out of our wheel covers. This time, we use the hubcap as our base and transform it into a unique work of art by embellishing it with found and repurposed materials in creative ways.
Sharon will share ideas and inventive uses for materials that we often just throw away. She will guide you through her process as a recycle artist, showing you ways the surface can be painted, decoupaged or left plain before embellishing with an assortment of materials that will include bottlecaps, plastic lids, buttons, corks, metal bits, seeds, papers, shells and much more.  
This is your workshop to enjoy the creative process and have fun with a new medium.  The theme can be floral or whatever inspires you when you select your hub cap. What you create can be used as something new for your wall, garden art on a fence, or a 'wreath' for your door. 
$85. All supplies are included. No art experience necessary- we all are creative! Provided is one cleaned and primed, ready-to-paint hub cap 'canvas' chosen from a variety of styles, acrylic paints, brushes, paper and supplies for decoupage, recycled materials for embellishing, adhesives and a glossy finish in spray or liquid to add the final finishing touch!
Make something totally different out of something you see everyday!
NHG offers a multitude of art-based workshops in a variety of mediums. For a complete list, see www.nhg.com.

Sharon Zigrossi is a recycle artist, who takes discarded hub caps and makes them into something entirely new.  A Master Gardener and employed at a local landscaping company, she finds artistic inspiration comes from her own garden. Sharon has always found flowers fascinating and loves to deconstruct their structure and recreate their beauty with found objects. What started as simple yard art developed into more elaborate creations for indoor display that are one of a kind and eco-friendly. For 10 years she has been capturing the essence of flowers in this truly imaginative way. This is her first art workshop with us at North Haven Gardens. 
bloominghubcaps.com