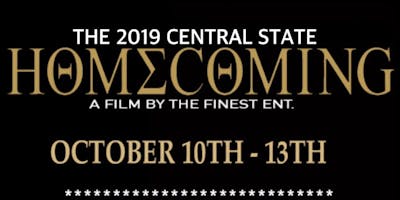 HOMECOMING ALUMNI EVENTS
Homecoming is just around the corner and we couldn't be more excited! If you're looking to have a great weekend we've got you covered. Events start Thursday, Oct. 10th and will conclude on Sunday, Oct. 13th. Don't forget to purchase your tickets and get ready for THE FINEST ENT. experience. See below for details... You got options!!!

What to Expect!
I love my HBCU, CSU. The Alumni Events is a four-day celebration bringing together alumni from all over. We're going to enjoy food, music, dancing and reminiscing of times on the yard. If purchasing in advance, tickets range from $10-$25 per event or you have the option to purchase a weekend wristband for $50. The wristband grants you access to all events: Purple Thursday, The Black Out, The Reunion and The Centralian-Nation Brunch/Day Party. Individual ticket price includes admission per event and the weekend wristband includes all four events. Events will reach capacity so get your tickets/wristband asap.
THE TAILGATE PARTY IS FREE but donations are accepted and appreciated. (See flyer for more information) 
                                            






 
FAQ's
1. How much are tickets/wristbands and what's included? Tickets range from $10-$25 per event in advance. The weekend wristband includes no wait access to all four parties: Purple Thursday, The Black Out, The Reunion Party and The Centralian-Nation Brunch/Day Party. 
2. Where can I pick up my wristband? You are able to pick up your wristband by calling 614.402.6875 starting the Thursday of Homecoming. 
3. Does my Alumni Event wristband grant me access to the Centralian Events? NO, you must purchase individual tickets to attend Centralian events.
4. Would my Centralian Event wristband grant me access to the Alumni Events? NO, you must purchase separate tickets to attend Alumni events.
5. Do I have to wear sneakers or dress semi/formal to the Centralian events? Yes the dresscode is strictly enforced. 
6. What does No Wait Access mean? No Wait Access means you'll bypass long lines. But please arrive on time wearing your wristband or proof of ticket purchase. Arriving late can result in longer wait times.
7. What happens if I lose my wristband? You must pay the entry fee at the door. Wristbands will not be replaced. Your wristband must be worn on your arm to prevent loss and to enter the party. Wristbands are waterproof and can be worn the whole weekend.
8. What are my transportation/parking options for getting to and from the event? Parking is available with a full parking lot next to the building but Uber/Lyft are options!
9. How can I contact the organizer with any questions?Contact [email protected] or 614.402.6875
10. What's the refund policy? ALL SALES ARE NON-REFUNDABLE.
Disclaimer: Attendee assumes all risks, injuries, liabilities and releases hosts and organizers from any risks or liabilities at or associated with the event.
Policies and procedures are strictly enforced.