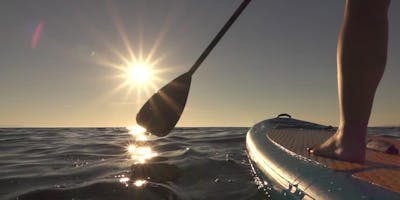 Full Moon Paddle Tour

Join us for a Full Moon stand up paddle tour through Royal Palm and Deerfield Beach Waterways. Enjoy making new friends as we cruise through multi-million dollar neighborhoods and see why South Florida is called the "Venice of America."
Reservations are highly encouraged to guarantee a spot if you need to rent a board.
Details
Duration: The duration of the tour varies based on water conditions, number of participants, and experience levels. Duration ranges between 75 – 90 minutes from start to finish. Difficulty: Easy Paddle/Endurance Moderate Our Full Moon Paddle tours are suitable for all skill levels but please note these tours are hosted in the intercostal and the potential of boat wake does exists. It's important that you are comfortable with being in the water and are a strong swimmer.  Distance: 1.5 miles Included: SUP board and paddle, life vest, light, ground school, and tour guide Schedule: Days/dates change monthly based on the full moon & sunset time.
2019 Full Moon Paddle ToursJan 20, Sunday 5:15 pm - 7:15 pmFeb 19, Tuesday 5:45 pm - 7:45 pmMar 20, Wednesday 7 pm - 9 pmApr 19, Friday 7:15 pm - 9:15 pm (CANCELED - Reschedule to 4/20. NOW SOLD OUT)May 18, Saturday 7:15 pm - 9:15 pmJun 17, Monday 8 pm - 10 pmJul 16, Tuesday 7:45 pm - 9:45 pmAug 15, Thursday 7:45 pm - 9:45 pmSep 14, Saturday 7:15 pm - 9:15 pmOct 13, Sunday 6:30 pm - 8:30 pmNov 12, Tuesday 5:15 pm - 7:15 pmDec 12, Thursday 5:15 pm - 7:15 pm
*Dates and times subject to change
Time: changes based on season, see date for start/end time Location: Meet at Island Water Sports, 1985 NE 2nd Street, Deerfield Beach, FL 33441 Cost: Rent a board, paddle and life vest: $30 bringing your own board and life vest: $10 Life vest rental: $5

Bring Your Own Board Option: $10 per person If you have your own board, the Coast Guard requires you to have a life jacket, whistle, and white flashlight. If you do not have these, you may be able to rent them from Island Water Sports, subject to availability. Per coast guard, only one person is allowed per vessel. Small children and pets may not ride on the board with you
Waiver: We require a completed waiver for every participant. If the student is a minor, a parent or legal guardian will need to complete the waiver. We only need the waiver completed one time.
Complete Waiver Here