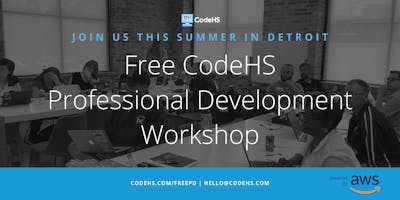 CodeHS is offering a free in-person professional development workshop in Detroit, Michigan this summer to help prepare teachers to run successful computer science classes with CodeHS! During this one-day summer workshops, teachers learn programming skills, effective pedagogy, and best practices for teaching computer science in a blended classroom.
If you are interested in attending the CodeHS PD workshop in Detroit, please register online here.  
FAQs
What should I bring to the workshop?
Please bring:

Your laptop and charger

A writing utensil

Your excitement for teaching computer science!

Is lunch provided?
Yes, lunch will be provided.
Is this workshop free?
Yes, it's free! However, attendees are responsible for their own travel arrangements to and from the PD workshop.
What other free PD workshops are you offering this summer?
To check out other free CodeHS PD workshops around the country this summer, visit codehs.com/freepd.
Questions?
Email our team at [email protected] We'd be happy to chat.