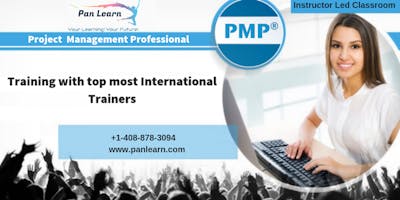 Our Classroom Training has 100% pass results with no cancellation or rescheduling and delivered by globally acclaimed trainers.
PMP is the globally recognized certification and with the inclusion of Agile increases its demand among the employers. The PMP recognizes the competence of an individual to perform in the role of a project manager, specifically experience in leading and directing projects.
Contact [email protected] or chat with us now to avail a discount*.
 
PMP Certification Training Overview
PMP certification is the globally renowned for project management professionals. Keep abreast of the changes in the project management practices updated in PMBOK guide - 6th edition and pass the PMP® exam on your first attempt with our new PMP course. The course covers new trends, emerging practices, tailoring considerations, and places a greater emphasis on strategic and business knowledge including a new section on the role of the project manager.
 
Instructor Led Classroom (PMP) Course Key features
4 Days of In-person bootcamp
Downloadable PMI® Approved Material
5 Simulation Tests
PMBOK® 6th Edition hard copy
End-of-Chapter Quizzes
35 Contact Hours Certificate
Dedicated Learning Consultant for PMI® application
100% Money Back Guarantee*
 
 
On completion of this certification program, you will be able to:
 
Define project goals;
Outline the steps needed to achieve those goals;
Identify the resources required to accomplish those steps;
Estimate the budget and time required for each step as well as the project as a whole;
Oversee the actual implementation and execution of the work; and
Deliver the finished outcome.
 
Who Should Attend?
 
If you have experience handling and managing project related activities including leading and directing cross-functional teams, project delivery, etc. then the PMP is the right choice for you. To attend PMP, you should fulfill one of the following prerequisites:
 
 
The eligibility requirements for PMP® certification are:  
Education
Project Management Experience
Project Management Education
Nongraduates
5 years/7500 hours
35 hours
Graduates
3 years/4500 hours
35 hours
 
The PMP® certification exam fees for PMI® members and nonmembers are:  
PMP® Certification Exam fee with PMI® Membership
$405
PMP® Certification Exam fee without PMI® Membership
$555
PMI® Membership fee
$139
PMI® Membership renewal fee
$129 per year
Reexamination fee for PMI® members
$275
Reexamination fee for non-members
$375

 
Why Choose Pan Learn?     
 
Panel of globally acclaimed instructors with immense experience.
100% value for your money
Higher pass rate in all exams
Trusted by global leaders
 
 
Visit www. panlearn.com,
Or Call +1-408-878-3094.